New Zealand could make much greater use of satellite images, says Southland group.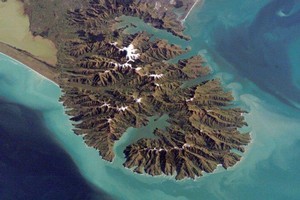 Watching grass grow isn't usually considered an absorbing pastime. But when the watching is done from a satellite hundreds of kilometres in the sky, it takes on a new dimension.
Satellites, just occasionally glimpsed overhead, never stop scanning the Earth. Who would have thought when last September's Canterbury earthquake was shaking things up on the ground, that a passing satellite would have recorded events and be able to provide images to help with the emergency response?
When foreign fishing boats encroach on New Zealand's exclusive economic zone, how many of them realise an eye in the sky knows exactly where they are and could be relaying the information to an air force maritime patrol?
If oil is spilled at sea, we know it can be devastating for the environment. We also know oil calms troubled waters. Satellites, therefore, can spot spills by detecting smooth patches on the sea, so a clean-up operation can swing into action.
Nearly a thousand satellites orbit the Earth and another was fired into space last week. According to a Union of Concerned Scientists database, most are owned by the United States, the majority are for communications and 70-odd are for military surveillance.
About 400 are geostationary, in orbits just above 35,000km, and a further 450 are in low-earth orbits of several hundred kilometres. It's those low-flying birds that carry out remote sensing of what's going on down below - whether it's the weather, how the grass is growing or how polluted the place is getting.
New Zealand doesn't have a space programme, but for several years a tracking station in Southland has been playing a modest role in the efforts of the European Space Agency (ESA) to get satellites into the sky. Tracking is by monitoring radio signals, and the station's position relatively near the south pole, in an area uncluttered by radio transmissions, is ideal.
Venture Southland, which built Awarua Station, 11km down the road from Invercargill to Bluff, would like the country to get more involved in space by setting up a near-time satellite image library.
"This is a bit of a pipe dream we've been following here at Venture Southland for about five years," says Robin McNeill, the council-funded organisation's enterprise projects manager. "It was precipitated by the European Space Agency requiring a station to track the Ariane 5 ATV launch series."
When another of those launches took place last week, sending the unmanned Johannes Kepler spacecraft skywards from French Guiana and bringing ESA scientists to the country, the opportunity was seized to give the idea some impetus.
Venture Southland and ESA sponsored a Royal Society gathering of local and central government resource managers, emergency response planners and officials with roles in fishing, shipping and land use monitoring.
For the idea to take hold, McNeill says, the images need to be cheap, easily accessible and available in a timely fashion - within hours, not days - particularly to be of value for disaster management. He calls it a chook problem - and there's not one chook but two.
"First there's the chicken and egg - there's very little awareness of satellite imaging." That means little use is made of it, so there's no demand.
Building and funding a facility is the other issue, and one the Little Red Hen would be familiar with.
"Lots of agencies and departments are spending bits of money on other ways of getting information that could perhaps more easily be obtained from space," McNeill says.
"But like the Little Red Hen's cake, everyone wants to use it [the facility] when it's built." ESA's Chris de Cooker, acknowledging the support the Europeans have had in establishing Awarua Station, says the agency is happy to lend its weight to the idea. De Cooker, in New Zealand to track the Johannes Kepler, says the facility could be freely availing itself of images from ESA's Envisat, for instance, the biggest Earth observation satellite in space.
"The data is there, but you have to do a lot of capacity-building to make good use of it," de Cooker says.
Landcare Research's Stella Belliss offers real-world examples. Clear skies after the first Canterbury quake struck provided good conditions for high-resolution satellite imaging of the disturbed landscape, she says.
"The data arrived here within a few days of the actual earthquake and was made available to the people doing emergency response mapping." More routinely, radar on the German TerreSAR-X satellite is being used to measure biomass, or grass growth, to help dairy farmers manage pasture use.
"It sounds amazing but you can actually measure this with as good or better accuracy from space than by walking around in the paddock," Belliss says.
After last week's gathering, McNeill is optimistic he has opened more eyes to the possibilities. Watching grass grow could be just the beginning.
Crowded skies
Number of operating satellites: 958
US: 441
Russia: 99
China:67
At least 115 countries own a satellite, or a share in one.
Source: Union of Concerned Scientists
Anthony Doesburg is an Auckland technology journalist