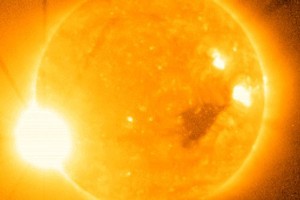 WASHINGTON - The sun has unleashed its strongest flare in four years, Nasa said, as astronomers in southern China reported disturbances to radio communications.
The massive Class X flash - the largest such category - erupted at 0156 GMT Tuesday, according to the US space agency.
"X-class flares are the most powerful of all solar events that can trigger radio blackouts and long-lasting radiation storms," disturbing telecommunications and electric grids, Nasa added.
The China Meteorological Administration reported a large solar flare and electromagnetic storms jammed shortwave radio communications in southern China, according to the official Xinhua news agency.
It also said the flare caused "sudden ionospheric disturbances" in the atmosphere above China and the CMA warned there was a high probability that large solar flares would appear over the next three days.
Nasa's Solar Dynamics Observatory saw a large coronal mass ejection associated with the flash that is blasting toward Earth at about 900 kilometres per second. The CME was expected to reach the planet's orbit at 0300 GMT Thursday.
The flare spread from Active Region 1158 in the sun's southern hemisphere, which had so far lagged behind the northern hemisphere in flash activity.
It followed several smaller M-class and C-class flares in recent days.
In previous major disturbance of the Earth's electric grid from a solar incident, in 1973, a magnetic storm caused by a solar eruption plunged six million people into the dark in Canada's eastern-central Quebec province.
- AFP