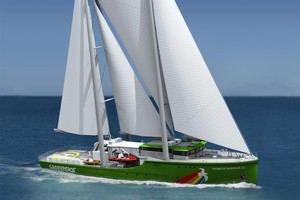 Her predecessors have been blockaded, rammed and - most memorably - bombed and sunk by the French secret service in Auckland Harbour.
Now a new Rainbow Warrior is approaching completion in a German shipyard. Ten years in the planning, Rainbow Warrior III will be equipped with accessories, including a helicopter pad and a secure communications room.
Greenpeace, which is spending £20m ($41m) on the project, hopes the new ship will provide greater campaigning reach, as well as being "greener" than the 56-year-old Rainbow Warrior II currently in use.
The new vessel will still have a diesel engine, but it is hoped the engine will be used for less than 10 per cent of the time at sea.
Instead, the ship will be powered primarily by 1300sq m of sail, rigged on two 50m masts. This will allow for a speed of 15 knots, fast enough to keep pace with conventionally-powered industrial vessels.
The ship will be able to accommodate up to 32 people, and the communications room will be able to stream live footage from the boat to anywhere in the world. She is due to be launched in October and will undergo sea trials for two months before embarking on a world tour.
Stefanos Malandrakis, who is in charge of the building of the new ship, said it was more environmentally friendly to build from scratch, rather than refitting an existing boat.
"This is a boat that we are going to be able to use for at least the next 30 years."
Greenpeace boats have been used from the Arctic to the Amazon to confront whalers, loggers, illegal fishers, nuclear testing and shippers of genetically modified food.
They are crewed by a mix of professional sailors and volunteers.
The first Rainbow Warrior - built in 1955 and bought by Greenpeace in 1977 for £40,000 - was bombed by French secret service divers while moored in Auckland Harbour in 1985.
Rainbow Warrior II - a converted deep-sea fishing schooner that came into service four years later - will be recycled, sold or passed to a museum with the launch of the Rainbow Warrior III.
A $40m SHIP TO PATROL OCEANS
*Length overall: 57.92m; Gross tonnage: 838 tonnes; Cruising range: 7240km; Speed: 15 knots; Accommodation: 32 people; Total sail surface: 1290 sq m.
*The ship will carry enough sail to cover 4 tennis courts.
*An onboard satellite-communications system will provide broadband to allow the ship to stream live footage. A secure radio room and onboard server room sit behind steel bulkheads, meaning that even if the ship is boarded and occupied, it can continue to transmit.
*The mast will be 50m high - as tall as Nelson's Column or a 15-storey building. That will allow vessels to be spotted 24km away from its crow's nest.
*The helicopter landing pad and storage bay will allow Greenpeace to film and monitor activities from the air. The ship's top speed will also allow it to keep pace with industrial vessels.Independent
- INDEPENDENT