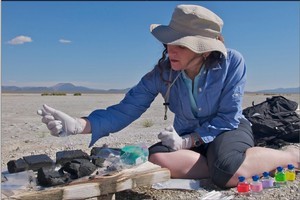 Alien life has been among us all along, according to new biological findings announced by Nasa.
But it's not ET or little green men, as the science fiction movies depict.
Research conducted by biochemist Dr. Felisa Wolfe-Simon from the US Geological Survey has turned the quest for alien life on its ear, Fox News reported.
There are fundamental elements found in every living thing on Earth, such as phosphorous and carbon.
Wolfe-Simon's discoveries suggest these key trace elements aren't the only signs of life, however.
After a two-year study at California's Mono Lake, near Yosemite National Park, Wolfe-Simon found that a bug will grow in the presence of the toxic chemical arsenic.
She explained the findings at a hotly anticipated Nasa press conference today.
It's a radical finding, say molecular biologists, forcing the space agency to redefine the quest for other life in the universe.
- AGENCIES