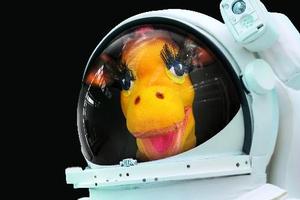 He's boldly going where no giraffe has gone before. Harold the Giraffe is spending four months on the International Space Station to help New Zealand youngsters achieve their goals.
Harold, the Life Education Trust mascot, has been a favourite with Kiwi kids for many years. One of the trust's staff knows an astronaut blasting off today and arranged for him to hitch a lift.
As part of the Wish Upon a Star competition, Harold will be the ambassador for every New Zealand child who sends in their ultimate goal, aspiration and wish in life.
Youngsters can write their wish on a special star, which they can get from school, and the message will be sent into space for Harold to read. Up to 250,000 stars have been distributed.
Everyone who sends in a wish goes into the draw to win prizes, including a live video link to Harold and one of the astronauts for the winner's class.
Harold was officially farewelled by Prime Minister John Key and children at St Anne's School in Newtown, Wellington, and was scheduled to blast off at 5.36 this morning.
For more information, go to www.haroldinspace.co.nz