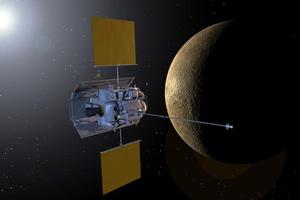 Celebrated Kiwi painter Frances Hodgkins has joined Beethoven, Hemingway and Rembrandt - by having a crater on Mercury named after her.
The Hodgkins crater is among 16 discovered by Nasa's Messenger spacecraft last October.
All such landforms on the closest planet to the sun are named after dead artists, authors and musicians.
The names are suggested by members of the Messenger team, the public and the International Astronomical Union.
Messenger Principal Investigator Sean Solomon said exploring new landforms on Mercury was a special experience that should be shared by everyone on Earth.
"It is highly appropriate that the naming of such features similarly acknowledges the contributions that individuals from all cultures have made to mankind's advances."
Hodgkins was born in Dunedin in 1869, spent much of her working life in Europe and died in the UK in 1947.
The modernist, who painted in watercolour and later changed to oil, was a "witty, energetic and outspoken woman", according to the Dictionary of New Zealand Biography.
She left New Zealand at the age of 31 and, although returning several times, spent most of her life in England.
It's unclear who nominated her, but Royal New Zealand Astronomical Society president Grant Christie said he thought the choice was "wonderful".
"Hodgkins is in pretty select company."
He thought New Zealand-born Nasa luminary William Pickering may have had something named after him, and perhaps atom-splitter Ernest Rutherford. An asteroid has been named after Kiwi meteorite scientist Brian Mason.
No other Kiwi creatives have been honoured astronomically as far as we know, but an asteroid first seen from the Auckland observatory was named after The Boss, Bruce Springsteen.
Arts commentator Hamish Keith thought the naming of the Hodgkins crater was "very gratifying".
"I look foward to seeing the McCahon crater."
But Keith said it was a shame that while features of the solar system could be named after people who achieved in the arts, features of Auckland were much more likely to be named after "people who achieved in the city council".