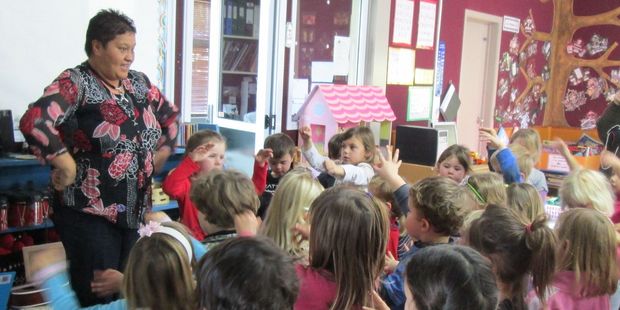 Identification numbers attached to children as young as three could be used to track and punish their parents.
The ID system will be rolled out next year, paving the way for information to possibly be passed from kindergartens to the Government agency which monitors beneficiaries.
About 190,000 children in early childhood education will be assigned a national student number, with providers collecting information including each child's daily attendance.
The Greens say childhood workers will effectively be asked to dob in parents who are not meeting their obligation to have their children in education, with preschool teachers used as "de facto benefit police".
The Government has moved to downplay the fears but refused to rule out an information sharing programme between the Ministry of Education and the Ministry of Social Development, saying it could be considered.
Early childhood providers, who were given assurances that children's information would not be passed on, said any future information sharing would likely result in teachers not recording all required information in protest.
"If there was any idea that your relationship [between provider and client] could be breached because you had to report to the Government, I think that would be a very negative thing," said Clare Wells, chief executive of NZ Kindergartens.
Thousands of people are expected to be cut off welfare benefits as large-scale changes to the social security system come into effect this week.
The new social obligations will require beneficiaries to take reasonable steps to enrol their children in early childhood education from the age of three until they start school, or have their benefits cut.
Social Development Minister Paula Bennett has previously acknowledged that the Government did not have the means to monitor all those children and the test would apply only to "vulnerable" children.
A spokeswoman for the minister downplayed her refusal to rule out an information sharing programme, telling the Herald, "you don't rule out anything in politics".
"It could be considered in future, as could many other possibilities, but there is no agreement currently."
Green Party co-leader Metiria Turei said that response showed the Government intended to use children's identification numbers to track beneficiaries.
In written answers to Ms Turei's questions, Ms Bennett had stated that, "over time", an information sharing agreement would be considered.
"It is completely inappropriate for preschool teachers to be used as de facto benefit police by the Ministry of Social Development. That's effectively asking them to 'dob in' the families who know and trust them," Ms Turei said.
Yesterday, education providers said they expected the initial commitment not to share children's information to be honoured.
Peter Reynolds, chief executive of the Early Childhood Council, said if that did not happen he expected some centres not to record all the necessary information in protest. But he did not believe such an agreement was likely any time soon.
"Right at this second the benefits of getting the system up and running outweigh the potential risks of what it might be misused for in future."
Ministry of Education group manager Karl Le Quesne said any request to share information on early childhood participation would be considered under the Privacy Act.