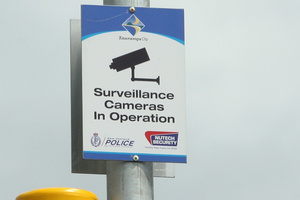 Surveillance cameras, which can be found in most major cities in the world, probably deter more crime than they detect. Photo / Martin Sykes
Latest figures from the Ministry of Justice record another drop in the number of young people sentenced for crimes in the year to June. The total of 906 offenders in the Youth Court was a marked improvement on the 999 in 2011/12, which in turn was down on the 1152 in 2010/11. The figures have been declining for five years and the latest is the lowest for 20 years. Something is going right.
The trend is not confined to New Zealand. Other Western countries are finding it, too. The reason is hard to identify. The decline has coincided with a generally tougher attitude to sentencing in recent times but advocates for that approach, such as the Sensible Sentencing Trust in this country, are not claiming much credit.
In fact, the trust's spokeswoman, Ruth Money, does not believe the latest Youth Court figures give the full picture. "The youth-crime records are down simply because fewer people are reporting minor crime, which, sadly, is where a lot of youth crime starts", she said.
There is no way of knowing whether that is so, unreported crime is a matter of conjecture.
The reasons for the drop in reported figures are also a subject of conjecture internationally. Some believe the reason probably has less to do with criminal justice than with economics and technology. They note, for example, that many of the home appliances that were once targets of burglary have become so cheap they are no longer worth stealing.
There is also the proliferation of surveillance cameras these days in places where street crime used to occur. It can be assumed a camera is on you everywhere in downtown areas of major cities now. Cameras probably deter more crime than they detect.
Sadly, the drop in crime probably cannot be attributed to rising general prosperity since sociologists insist the gap between rich and poor is widening.
That being so, the decline in offences such as assault, burglary and car theft is all the more surprising. It suggests inequality is not quite as closely associated with crime as claimed.
Whatever the reason, the steady reduction in numbers sentenced in the Youth Court is heartening. Crime is primarily committed by the young and young adults, reoffending declines markedly once those with a criminal record reach their 30s. The Youth Court was set up for those under 17 to try to put them on a different path. Of the 906 young people it dealt with in the latest year, 69 received adult sentences and the rest were fined or given supervision, education or rehabilitation programmes.
But the real success of the Youth Court may be the decline in numbers appearing in adult courts, also down to the lowest number for a decade. A total of 95,429 people were prosecuted in 2012/13, and 24 per cent lower than the peak four years ago.
It is a remarkable turnaround from just a few years ago, when Finance Minister Bill English was complaining that so much of the country's Budget was being spent on additional prisons. Yet the imprisonment rates remain relatively stable, one in 10 of those convicted. Jails are no longer crowded because fewer crimes are being committed.
The number of people charged with a violent offence has dropped 19 per cent over the past five years. The decline can be seen in all age groups, the largest among 17- to 19-year-olds, and in all ethnic groups.
Youth justice, with its family group conferences instead of court appearances and concentration on getting young offenders back to school rather than introducing them to prison, appears to be working. The decline of crime is undeniable, may it continue.