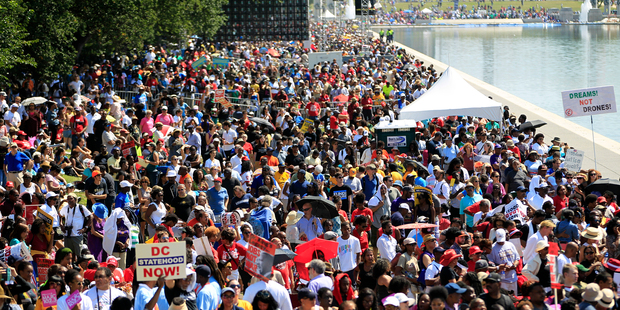 Tens of thousands of people gathered to mark 50 years since the March on Washington, the civil rights watershed where Martin Luther King jnr famously declared: "I have a dream."
The predominantly African American crowd swelled around the Reflecting Pool.
"This is not a time for nostalgic commemoration ... The task is not done. The journey is not complete. We can and we must do more," said King's son Martin Luther King III. "Fifty years ago, my father stood upon this hallowed spot and the spirit of God spoke through him ... I can almost hear my father humming, 'A train's a-coming'."
King's speech was a stirring vision of a United States free of inequality and prejudice.
"Their march is now our march, and it must go on," echoed Attorney-General Eric Holder, honouring the estimated 250,000 who assembled on the National Mall in sweltering heat on August 28, 1963, to denounce racial segregation and demand equal rights.
"Today, we look to the work that remains unfinished. We want this nation to be all it was designed to be, and all it can be." Another commemorative march will be this week addressed by President Barack Obama.
Marjorie Ross of Springfield, Massachusetts, was part of a group that travelled for seven hours. "My grandmother came in 1963. I picked up the torch to be here for her," said Ross, who was 13 then. "As a kid I endured a lot of injustice, and I'm sure it was because of the colour of my skin."
- AFP