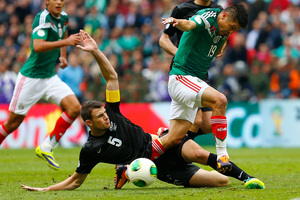 Departing with dignity is not always easy to do. But Ricki Herbert should do it.
Thursday's 5-1 loss to Mexico was an embarrassment. Before the game kicked off, I walked into our office where the TVs were showing the World Cup qualifier and said to colleagues: "All ready to watch them go overboard defending and lose heavily?"
There is no pleasure in recalling those words. But, at the time, it seemed like everybody knew what was going to happen, except Herbert. The only way the All Whites could have been more defensive was to have lined up all 11 players across the goalmouth, six on the bottom and five standing on the others' shoulders.
We all knew Mexico were a better side; we all knew it was A Big Ask At The Azteca. But that doesn't excuse such a defeatist approach. Sport should always be about trying to win. There is room in football for the 0-0 draw but as a World Cup strategy, it smells.
Away goals are diamonds that can assure passages are booked to a World Cup. All the All Whites booked was embarrassment. Skipper Tommy Smith said after the match: "We dropped far too deep, which allowed them too much time on the ball. We were constantly under pressure in that first half - you can never hold out for 90 minutes if you haven't got a touch of the ball. Eventually they will score."
You think? At one stage in the first half, New Zealand were so far in their own shells that a Mexican player parked the ball in the centre circle and strolled off - leaving a team-mate to casually claim it. There wasn't an All White in sight. No one ran forward to put the pressure on, contest possession or provoke the wayward pass.
It was reminiscent of the famous Monty Python skit where Manchester United played the Long John Silver Impersonators Club. Man U scored goal after goal as the opposition XI (all dressed as pirates, with an eye-patch, a crutch and a parrot on the shoulder of each man) stood in one place and did nothing except say: "Arrrr, Jim lad..."
Clearly feeling the pressure, Herbert was tetchy. Asked why stalwarts like Ryan Nelsen and Simon Elliott had not been used to help the team prepare provoked a sharp response. A defensive Herbert insisted he had not received the recognition he deserved for the All Whites' performance at the 2010 World Cup. He also wondered if there was anyone better than him to take over the national team and said he rescued football in this country. Certainly his achievements in that wonder run in the World Cup in South Africa in 2010 will always be a mark of pride for Herbert. In spite of his raw-nerve reaction to the Nelsen/Elliott question, that was his triumph that the Kiwis' defensive strengths did the nation proud.
However, change is constant and attempting to get to the 2014 World Cup by defending to the exclusion of all else was courting the disaster that inevitably arrived. The best attacking option, Marco Rojas, was left on the sideline and only introduced at 3-0 down. He was the best hope of creativity - and the strategy of trying to get to the World Cup by not scoring was painfully, embarrassingly, exposed.
It's time for someone else now. Maybe Herbert's place in the game here can be underlined by kicking him upstairs to become director of football or some such - but with no coaching or selection duties.
The choice of Jeremy Christie in the midfield was a crock, as was the game plan and its execution. Selection, strategy and execution are three damning areas to get wrong.
As for claims NZ Football don't have an alternative to Herbert and can't afford an overseas coach ... really? The game here can't afford to improve its future?
There's also the bigger picture. These days, sport has to be entertainment too. Relying on an outmoded strategy has meant a two-legged tie has been settled in one leg and Herbert - even more than the Long John Silver Impersonators Club - hasn't got a leg to stand on.