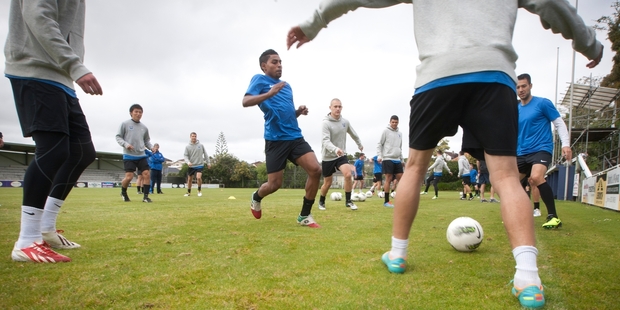 Any of the top three teams in New Zealand football's national league would be competitive with professional clubs in the bottom half of the A-League table.

That's the view of Ivan Vuksich, the chairman at the helm of the Auckland City team which will represent Oceania at the Club World Cup in Morocco next month.

It's an encouragingly upbeat assessment of the technical output of the ASB Premiership, which last weekend kicked off its 10th season as a franchise operation and this summer gets its first tweak with the inclusion of an age-group team at the expense of a provincial entity (Manawatu).

But fellow key thinkers in the game are just as quick to point to structural flaws and fundamental problems for our flagship domestic league.

Beyond issues of the playing standard, they question whether a league which costs over $600,000 a year to run still meets its original stated objectives of improving the sport's financial viability and long-term sustainability within the current structure, given few people seem to be watching.

Further, in some quarters they even wonder if a return to a club-based format would bring a more loyal and passionate following, and maybe a more evenly spread competition than the current one - which only the two Auckland clubs have ever won.

There is a general acknowledgment that national league crowds have dwindled in recent summers with the league surviving mainly due to the largesse of community gaming trusts, given entrants must cough up an annual $65,000 plus GST entry fee.

Even for Auckland City - arguably the most well-supported team - attendances are a fraction of what they were when the 8-team summer league was launched in 2004.

For every dollar of income taken at the gate, pokie machine losers probably contribute at least another $20.

Vuksich reckons the league, which has featured over 50 players that have been or gone onto be professionals, has got an image problem.

"People perceive that our league is second to the A-League so why would you bother going to watch? And that's our problem.
"The product is not as bad as what people think.
"I think the top three or four from our league could compete with the bottom half of the A-League. So we're not that far away... People say 'oh yea but Waitakere got beaten 7-0 by the Phoenix', yes but that was seven years ago.
"It certainly doesn't happen now. We've played two A-League teams and had two wins. Central Coast Mariners - we beat them 3-1 and they went on to win the league that year. That might be a good omen for the Phoenix."
But with New Zealand Football having a restricted budget, there is a limit to what can be done - though he does back the existing format.

By contrast, former Waitakere United chairman Rex Dawkins sees big clouds on the horizon.

Dawkins is no longer actively involved with Waitakere, but after long spells as an administrator, national councillor, and even a sponsor (Lotto) he has a breadth of significance in the game at national league level few could match.

"Outside of the local derbies in Auckland there is very, very little support," he says.
"We don't get the publicity and media exposure that we did in the beginning. We're getting less and less column inches in the paper. We find it difficult to get the public's attention.
"If it wasn't for the Oceania League we wouldn't have the ASB Premiership."

Part of the problem, he believes, is a lack of sponsorship passed on from the national body.
While ASB is the name-right sponsor, the league only receives a portion of the bank's total sponsorship of the code.
Dawkins says the overall value of the national league to the code is worth a lot more than the monetary proportion it is getting.
"The ASB premiership is a stepping stone for a lot of players to reach greater heights. We are reliant on a domestic competition that gives these guys a chance to land a professional contract with the Phoenix or further afield."
"We haven't got a solid foundation of sponsorship. The competition is ticking along OK. But we're missing out by not having the games on TV. We didn't even get the Chatham Cup final on. It's all about money. They say they can't afford it. But if we're not going to get our domestic game showcased on TV who is going to give sponsorship to a franchise?"
Dawkins also favours a return to a club-based league

"I still believe the best value for the National League is club-based. I'd rather see a stronger club based competition than a franchise competition. I firmly believe it's difficult to get support to a franchise - they're only there in summer, they're not a club."

Vuksich disagrees on that point.

"I don't think the quality is there in New Zealand to have more than eight teams.
"I think the current competition is better than the Superclub. It's just too hard for clubs to afford a national league."
New Zealand football historian Barry Smith says national league matches which once drew 1000 patrons now struggle for 200.
"As time goes on people tend to say 'well it's not as good as it was' but I think that's just an age and nostalgia thing. Probably what it lacks is a bit of bite. It lacks the competiveness of what we had in the original national League from 1970-92."
"They need to look at the Australian A-League as the model and see why they are succeeding and follow suit. It has got a profile and there is serious money being spent in promoting them. All the teams going in it are expecting to win it, whereas here we only have 3 teams who realistically think they can. The rest are just going through the motions, happy to stay in the league."
Wellington-based lawyer Guy Smith, a former Capital Football board member, and host of the In The Zone football podcast, says the reason so few team feel they can win is because the league is financially skewed.
"I know that some people in Wellington think that we will never catch up with Auckland or Waitakere because of the Club World Cup money, but it's not really about that money - it's about the gazillions of dollars they get from trusts which just unbalances the league."
Smith says the advent of the premiership has certainly taken the heat out of the Wellington meat market for players.
"But it hasn't actually done anything to reduce the cost of actually being in the national competition. And it's taken the volunteer base away from the game.
"My big issue with the ASB Premiership is the structure of it. It's called a franchise league but it's not really because there is no centralized control of the franchises. There's no participation criteria, there's no enforcement of any rules on the franchise, it's just here we'll give you a license to put a team in and you do it however you like.
"I would transpose the A-League structure onto the ASB Premiership. 'You're a franchise league: here are all the things you can do, here are all the things you can't do'. One of those things would be an expenditure cap, a public salary cap because they're not professional players.
"You would set up financial fair play rules and put it on a really financially stable footing. Then you would go cap in hand to some big trusts and say 'give us lots of money to make this really right.' Then they could do their own fundraising.
"I would also make it a ten team league because I think there are enough people who want licenses to justify it being a ten team league. One of those teams must be a team in Auckland, and a genuine team - not this youth Wanderers outfit."
Meanwhile Vuksich says when Auckland City and Waitakere appear in the Club World Cup, it is other franchises that benefit through a profit-share agreement in the league licence, but they cop hefty costs.
"We lose money every time we go there and the rest of the clubs benefit," he says.
"They come back with a positive, we come back with a negative. The cost of us going up there is at least $150,000, and the other clubs get around $30-40,000 and we get 120,000
"Sponsorship, fundraising and working our arses off makes up the deficit as well as a decent overdraft understanding with the bank.
"Under the rules of NZ Football I don't know how that can change, but it's definitely not an advantage going there. The club that goes is at a serious disadvantage.
"We got $1.5 million the year when we won two games. But three of the four times we have come back with big minuses."