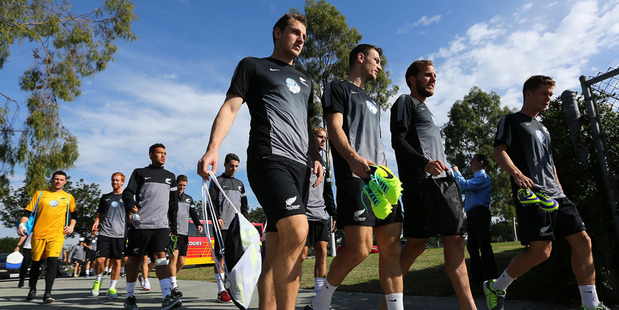 As the All Whites enter Mexico, there are serious security concerns over what could unfold over the next 72 hours, with some players privately questioning if New Zealand Football has done enough to ensure their safety.
The last time the All Whites played Mexico, a large rock was thrown through their bus window after the match and their footballs were stolen at a team training session. That was in Denver, not Mexico City and the shattered window came as the team left the stadium after a 0-3 loss. One thing is certain: the All Whites will be deep in enemy territory.
There may be more intimidating places to go in the soccer world, like Uruguay (ask the Socceroos), Honduras or Haiti but it is what's at stake over the next few days that counts.
There is not pure hatred or huge rivalry (as with the United States, Honduras or Costa Rica) but it's not exaggerating to say that millions of Mexican footballing hopes are on the line, whether financial or emotional, and this small band of New Zealanders are the unlikely foes in the way.
"Life will stop for awhile here if we don't make the World Cup," said one Mexican reporter.
Several players wonder if NZF has done enough."Ultimately it is their responsibility if things go wrong there," said one senior player.
The team will arrive and leave on a commercial flight (other teams enter Mexico on charter flights), and there are concerns over food safety, general security and disturbances outside the hotel (which the Mexican FA booked for NZF).
"They are going to do all they can to disrupt us," said defender Tommy Smith. "We are prepared for that and we have been briefed on what to do."
Players have been told to avoid leaving the hotel and, if so, only in large groups, divesting themselves of all identifying clothing.
Over the years, teams in Mexico have reported luggage and money going missing, room service orders never arriving and random phone calls at all hours of the night. There have been fire alarms outside hotels, bands in the street and "impromptu" traffic jams.
"I've packed my earplugs," Smith quipped. "I'm looking forward to the bus getting shaken to be honest, I have never experienced that before ... [but] seriously it will be a great experience, something to savour for everyone here."
A large police escort will accompany the team bus to the stadium tomorrow morning (NZT).