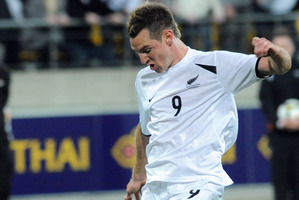 One of the most convoluted sagas in All Whites history is coming to an end and they have virtually returned to where they were 10 days ago.
The All Whites are already in Los Angeles awaiting confirmation of their schedule only two days before their first game.
A game against Trinidad and Tobago in Port of Spain on October 16 (NZT) is not in question but New Zealand Football have gone around in circles trying to organise one or two games for the All Whites against club sides in preparation for their biggest games every four years.
They were originally slated to play MLS outfit Chivas and Mexican club side Queretaro in a six-team tournament in Los Angeles but the tournament was thrown into doubt when one side had visa issues.
NZF then had the option of playing Queretaro in Mexico as well as a local Mexcio City side but settled on playing Chivas instead on October 13 (NZT). They are also lining up a game against Premier League Development Club side Ventura County Fusion on October 10.
"It has been frustrating to say the least," acting NZF chief executive Mark Aspden said. "But what we have ended up with is pretty close to what we would have got to if we had a blank sheet of paper to start with."
The original plan for the October window was to play two internationals but it has proved challenging. Few nations have wanted to play a low-profile team like New Zealand and others from North and Central America have little inclination to help a country trying to beat a Concacaf team for a place at next year's World Cup. New Zealand next month take on the fourth-best Concacaf side for a place at the World Cup, with Mexico the most likely opponent.
- APNZ