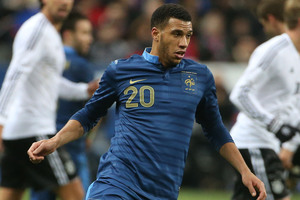 Tottenham have taken their pre-season spending over £50 million ($96m), ahead of recouping a potential world record transfer fee of up to £100m ($193m) for Gareth Bale.
A £9m ($17m) deal was completed yesterday for Toulouse holding midfielder Etienne Capoue, with the France international undergoing a medical yesterday and expected to be at Tottenham's final pre-season friendly overnight against Espanyol.
Capoue, 25, can play as a defensive midfielder or defender. He has played for Toulouse for six years, scoring 13 goals in 174 appearances, and has five caps for France, scoring one goal.
Roberto Soldado, the club's new £26m ($50m) record signing, is in the squad for that match at White Hart Lane but Bale will be conspicuous by his absence as the deadlock continues over his proposed move to Real Madrid. Spurs are not interested in Real's suggestion that payments could be stretched over the term of a six-year contract. Tottenham chairman Daniel Levy met Madrid president Florentino Perez on Tuesday but talks broke down quickly, with Spurs judging that the valuations Real were placing on their players - striker Alvaro Morata, winger Angel di Maria and left back Fabio Coentrao - were inflated.
Spurs would want at least two of the players discussed should they sell Bale. They also doubt whether Madrid have the money to reach their valuation of Bale, which is around £100m.
The signings of Soldado and Capoue, however, do seem to suggest that Tottenham are confident of recouping signing funds in this transfer window.
Despite being unavailable for Tottenham, Bale is in the Wales squad for the match against the Republic of Ireland on Thursday.
Regardless of which club he plays for next season, Bale's income is expected to increase after it was confirmed that his application to trademark his 'Eleven of Hearts' celebration logo has been successful.
The Intellectual Property Office confirmed yesterday that the logo, which includes a No 11 inside a heart shape made of two hands, has been trademarked. Bale's advisers have plans to introduce the symbol on to a number of products which will be revealed to the public at a later date.
That could stand to make him up to £3m ($6m) a year, according to Nigel Currie, director of sports marketing agency BrandRapport. He said: "The possibilities are huge for Gareth Bale. Once he has that right, he can cash in on it." Daily Telegraph