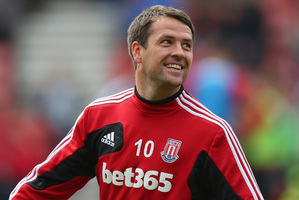 Michael Owen has sympathy for want-away Liverpool striker Luis Suarez, saying he understands the ambitions of Suarez, Wayne Rooney and Gareth Bale.
"I'm not saying Suarez is right in everything he's done, far from it, but having been a footballer, I can understand his position. Luis is one of the best strikers in the world. He's probably not going to win the league for Liverpool this season, not even in the Champions League, and he's done fantastically well for them. It's a tough world out there. You have to make the most of your 15 years.
"People have this stereotypical view of a footballer that he's just greedy, no loyalty, but you can bet your bottom dollar that if Suarez wasn't as good as he is, then Liverpool wouldn't have stood by him [during his misdemeanours]. Of course, you have to bear in mind the things people have done for you along the way, and have some gratitude, but you have one shot.
"Luis has not come through the ranks. He doesn't have a huge affinity with Liverpool but the fans have a huge affinity with him and expect that to be reciprocated.
But he wants to go and be at the best club he can.
"This is where I can't quite understand it. If Arsenal are the only option for him, I can't really understand why he would want to leave, given the way the Liverpool fans feel about him and the team is virtually built about him. If Real Madrid came in for him, I could certainly understand that."
Owen made that move in 2004: "I was more rooted to Liverpool than certainly Suarez. He's only been there two minutes, in comparison to me being there at 11, knowing the tea lady and everyone else. I decided that I couldn't let the opportunity pass.
"I was probably in the same situation as Gareth Bale at the minute. I don't think Gareth is desperate to break free from Spurs but there are certain opportunities in life that you think, 'Will I ever live it down if I don't do it?'
"It's Real Madrid! Bloody hell! That team! Zidane, Raul, Figo, Ronaldo, Beckham! I was at Liverpool, we'd won cups, but we weren't going to win the league any time soon. I thought, 'Right, we have a 50-50 chance with Barcelona of winning the league'. It's Real Madrid. It's the name, stadium, players, the kit, history. Money comes so far down the pecking order.
"I was never driven by money. I didn't really need to be. Being at the top, having commercial deals, I was making as much - if not more - off the pitch as on it. If I'd signed a new contract at Liverpool, I could have been on the same money I was on at Madrid.
"The only time I was handsomely paid in my career was at Newcastle. I was talking to Liverpool at the time, was desperate to sign for Liverpool and would have been on two-thirds of the money [as at Newcastle]."
Owen left Newcastle for Manchester United in 2009, getting to know Rooney, a figure frustrated by any bench duty.
"Wayne wants to play all the time. We all love football but he's on a different level. I've never known a lad who's just so excited when he sees a football. When he retires, he'll be kicking a ball about in the park.
"At training, he walks out, first on the pitch, opens a bag of balls, whacking them everywhere, trying different things. I don't think he can bear the thought of not being the main man and not playing all the time, especially in a World Cup year. He wants to be loved, the first name on the team sheet. If he's not, it is a huge dent to his self-belief. You want to go to somewhere where you feel the main man."