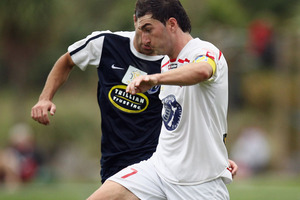 Their minds may have wandered to a possible showdown with Auckland City but Waitakere United captain Jake Butler has warned his side about an Amicale comeback in the Oceania Champions League.
While Auckland head to Fiji to face Ba on Saturday with a commanding 6-1 lead from the first leg of their semifinal, Waitakere still have some work to do against the Vanuatu champions.
The west Aucklanders earned a bit of breathing room with a 2-0 win in the Pacific Islands last weekend, meaning only an unlikely reverse in the return leg at Fred Taylor Park on Sunday will deny them a place in the final, where Auckland almost certainly await.
And having situated themselves securely in the box seat, it was understandable for Waitakere's players to begin discussing arguably the most important - and certainly the most lucrative - Super City derby in the rivalry's history.
A spot at the Club World Cup in Morocco and the US$500,000 which comes with it will be the reward for the victors at Mt Smart Stadium on May 19, but Butler was careful about setting his sights too far ahead.
"There's been a bit of talk about it during the week,'' Butler said of another encounter with Auckland. "I had to say a firm reminder to some of the boys last night just to focus on this week.
"If Amicale score first, it's game on. So we've really got to make sure we do the job before we even think about preparing for the final.''
Butler's assertion about the open nature of the tie highlights an intriguing tactical question for Paul Marshall's side. With a 2-0 lead, do Waitakere sit back and protect what they have or do they pour forward in search of a goal which would virtually seal their spot in the showpiece?
"We'll aim to keep it tight at the back and not concede,'' Butler said. "We're really good at defending and blocking teams out.
"And they'll have to come out and throw everything at, us so I think we'll be able to pick them off a nick a few goals.''
If they can succeed in that strategy, the potential prize is one no New Zealand club have experienced before. Having beaten Auckland to claim the season-opening Charity Shield, Waitakere took out the ASB Minor Premiership before again besting their city rivals in a thrilling grand final.
That makes it three pieces of silverware from three - and Butler is determined to make it four.
"We've already won all three the trophies we've been able to win - the quadruple, we're calling it,'' he said. ``I don't think anyone's done that so it'll be a bit of history. It would be bloody awesome.''
- APNZ