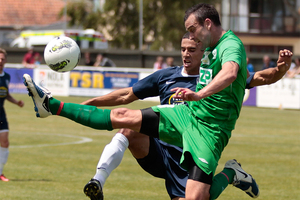 A desire for the Junior All Whites to make an impact at the 2015 World Cup being hosted in this country as well as Manawatu's dreadful run of results over the past three seasons were behind the decision to make dramatic changes to the ASB Premiership.
YoungHeart Manawatu were today dumped from the ASB Premiership and replaced by a New Zealand under-20 side, which will be based at North Harbour from next season.
Manawatu have collected the wooden spoon for the last three seasons and New Zealand Football decided at their board meeting this week to cut them from the league. Their youth side, which has also achieved little success, remain in an expanded 12-team youth league - a team from Masterton and South Auckland are the newcomers to the youth league.
An under-20s side has been touted for some time but most expected them to be added to an expanded ASB Premiership, not introduced at the expense of an existing side.
The move represents the first change of teams in New Zealand's top football league in nine years, although Waikato have been rebranded and will now be known as WaiBop United.
"We need eight strong teams in the league and we didn't feel Manawatu were adding value to the league,'' NZF chief executive Grant McKavanagh said. ``We looked at a 10-team competition and tried to make it work but there is already a big difference between the top and bottom and adding two more teams is not the right thing to do.
"We want a league that is developing and that wasn't occurring. We have to make tough decisions at times.''
Manawatu said in a statement they were ``reeling'' from the ``devastating decision'' not to renew their licence and said it was a move that did ``not make sense''.
"The decision is a bitter blow to football in Manawatu and will undo years of work by schools, clubs, Central Football and the franchise in developing the wealth of local footballing talent,'' the statement said. ``This is a sad day for Manawatu and football in regional New Zealand.''
Waitakere coach Paul Marshall also couldn't understand the logic of a youth team being included and felt the league should be expanded to 10 teams with an additional one added from Auckland.
"You only have to look around the world to see other leagues in operation, the Premier League, the Bundesliga, the La Liga, anywhere around the world,'' he told Radio Sport. "There are no youth teams in those leagues so why would we decide to do that?''
The under-20s will play at North Harbour Stadium and, while it was the decision of players, McKavanagh hoped the best youngsters would choose to play for the under-20s side as opposed to their franchises.
"There's no question we want to make a mark at the 2015 World Cup and our team to go deep into the tournament,'' he said. ``We believe the best way to get good results is to have them playing and training together regularly.''
It's a view shared by Junior All Whites coach Chris Milicich, who will take this year's intake to next month's Under-20 World Cup in Turkey where they will come up against Uzbekistan, Uruguay and Croatia. Milicich guided the 2011 side to draws against Cameroon and Uruguay and is keen to continue in the role beyond next month's World Cup.
"I think it's a positive move,'' Milicich said. "I have been trying to encourage NZ Football to put the under-20s in the league for some time.
"We will now be able to build a strong side but the Under-20 World Cup is an enormous step forward because you're up against fulltime professionals. This will allow us to get our players into an environment as close to a fulltime professional one as we can - although obviously we can't afford to pay them.''
- APNZ