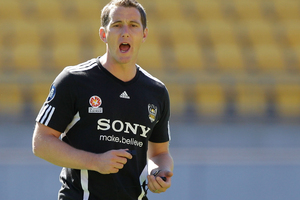 Chris Greenacre played for Manchester City, Blackpool, Stoke City and the Wellington Phoenix among other clubs during a 16-season professional career and now he will add his name to the team sheet for the Waterside Karori Dreamers.
Just over a year to the day since he played his last professional game, Greenacre has been coaxed in to playing for an over-35s team that turns out in the Masters 1 division in Wellington by friend Matt McLaughlin.
Having spent the past season as assistant and then caretaker coach at the Phoenix, Greenacre said he was looking forward to getting back on the paddock for a kick around.
"So I retired a year ago on Sunday just past and I said for the first year I'd live my life as, I suppose, just a regular guy and it's just time that I fancied having a run around,'' Greenacre said.
"So a good friend of mind, the owner at the [sports bar] Four Kings, Matt McLaughlin, asked me if I fancied a run around so that's what I'm going to do.''
A transfer request was logged with Capital Football today and once the paper work is signed off - usually overnight - Greenacre could lace up the boots for the Dreamers on Saturday.
That's providing he can find some boots.
"I've just been in to the garage to dig a pair of shin pads out and I've had to actually ring my old boot sponsor to ask him if they can send me a pair of boots because I don't own a pair of boots,'' Greenacre said. ``But, never mind, it's really low key.''
Despite scoring more than 140 goals in his professional career, Greenacre, who turned 35 last December, said he wouldn't be demanding a post up front.
"To be quite honest, it's just about having a bit of a laugh and I'd play in goal to be honest, I'd play at right back, I'd play at left back, I'm not bothered. I just want to have a bit of a laugh and just get back out there and just have a bit of fun, really. I don't care where I play.''
His match ``payments'' were reasonable too.
"Apparently there's a drinking game that I've got to do which is a red line or something so I think that's going to be part of my initiation after the game. So that's the only match fee that I've demanded,'' Greenacre laughed.
The Dreamers have won their first two games of the season and also boast former All Whites skipper Rodger Gray in their ranks.
McLaughlin, who jokingly referred to himself as the team's talent scout, said it was great to have a player like Greenacre join the mix.
"He's expected to get on the score sheet or at least set me up for a goal in his first game,'' McLaughlin laughed.
- APNZ