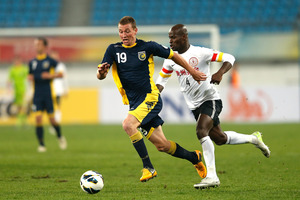 The Central Coast Mariners have a fairytale of their own to worry about, and say they're prepared to "die on the pitch" to make sure it comes true in Sunday's A-League grand final.
All the talk has been about the rise of the Western Sydney Wanderers from nothing to the giddy heights of a league title and grand final appearance in their debut season.
But the Mariners have a completely different script to write on Sunday as they attempt to overcome the misery of three previous grand final losses and win their first decider.
The Mariners have no marquee player to put up against Shinji Ono, the Wanderers' Japanese import, and they work off the A-League's smallest wages budget, with eight players on the minimum wage.
Not so long ago the club was in financial trouble, and had difficulty paying anyone.
But young goalkeeper Mat Ryan believes the hard times have made Graham Arnold's team tougher.
He describes the money crisis as a "little hiccup along the way".
"Every club has hiccups, and we are fortunate to be on the other side of it now," said Ryan, who comes off contract next month and may well be Europe-bound.
"The camaraderie here is probably the utmost factor in our success.
"Whatever has come our way, we have dealt with it as a team. We do everything as a unit - team lunches, team dinners and so on. Everyone is willing to put in for the team, and to die on the pitch for each other."
Ryan acknowledges that if his European ambitions become a reality soon, this will be his last A-League match for the Mariners.
"If I was to leave, a grand final win would be a fairytale ending for me."
Mariners veteran Mile Sterjovski, 33, also knows this could be his last chance of securing the grand final silverware.
"You never know what the future holds, so this is a great opportunity for myself and the other older guys," Sterjovski said.
- AAP