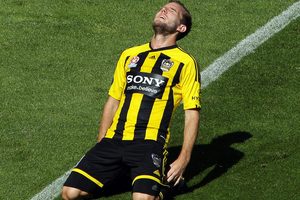 He has been banging them in all season from all angles but Jeremy Brockie readily admits he would gladly swap some goals for wins.
Brockie, who has bagged 13 goals this season in his debut campaign for the Phoenix, said team wins meant more than individual glory.
"I would rather take a couple of goals off my tally and get some more points on the table. Unfortunately, things just have not gone the way we would have liked,'' he said.
"For the rest of the season, all we can play for is pride in the jersey and try to avoid the wooden spoon.
"We have probably got to a stage of the season where you concede the first goal and you see the head drop and it doesn't make it easy. Throughout the whole season, we have had chances to go ahead and haven't really taken them and that just builds pressure on the defence.
"I don't think we have scored in the first 15 or 20 minutes the whole season and that can really hurt.''
Brockie (25) has scored some spectacular goals this season, and puts his good form down to hard work on the training paddock and getting used to the A-League.
"I worked hard in pre-season and I think I have just got a bit more experience, knowing what's right for me in terms of training. knowing what is the right playing weight and looking after my body better.''
Brockie had dropped 4kg over the past couple of seasons.
"You do not realise until you've dropped the weight how much easier it is to get round the park. My last two seasons I have been injury-free, too. You are playing week in, week out and putting a good run of games together.''
The Phoenix has been through plenty of drama in the past week with the departure of coach Ricki Herbert followed by a 2-1 loss to Newcastle.
"You do not really see anything like that coming. I think Ricki felt he just had to move on. But he has been a massive part of the Phoenix. He has been there since day one.''
Brockie has good memories of Dunedin, having won an under-14 tournament for Nelson in the city and later making a Milk Cup team which went to Northern Ireland.