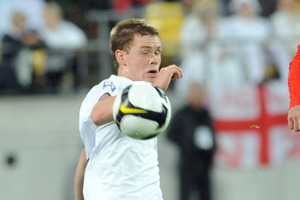 Wellington fans hoping to see All White Michael McGlinchey in Phoenix colours will be sorely disappointed after the midfielder today extended his contract at Central Coast.
The attacking dynamo linked with the Mariners in 2009, after coming through the youth system at Scottish Premier League side Celtic, and has since made 110 appearances for the A-League table-toppers.
The 26-year-old has blossomed into one of the competition's most influential midfielders, and Central Cost fended off the advances of several rival A-League clubs to secure his signature for another two seasons.
Whether the Phoenix were one of those teams remains unknown, but one thing that is for certain is the impact he could have made on the struggling franchise.
McGlinchey is exactly the type of player the Phoenix have long been missing in their engine room - an attack-minded player who can keep possession and routinely find a final ball.
He would have cost a pretty penny to be lured to the city of his birth and may have even justified marquee status, something the Welnix ownership group has previously been against.
But that will now be consigned to the status of what might have been, with McGlinchey feeling the Mariners provide the ideal environment for him to keep growing as player.
"It has been going on for a while now and I am just happy to have reached an agreement so that I can stay another two years with the Mariners," McGlinchey said of his contract negotiation process.
"I came out in 2009 and I think as the years have gone on I've performed better. This is down to the way I have been coached, and I still have a lot of learning to do. The Mariners feel like the best place for me to keep learning."
McGlinchey also said off-field factors, including the happiness of he and his wife Rachel in living life on the Central Coast, contributed to his decision to remain with reigning A-League premiers.
Central Coast Coach Graham Arnold expressed his joy that a key member of his squad now has his immediate football future figured out.
"Mikey is an important part of our team for a number of reasons," he said. "His career has flourished in his time here, he's been to a World Cup and the Olympics, and there's the promise of much more for him to come if he continues to work hard on his game.
"I believe Mikey is one of the best attacking players in the A-League and he was a major priority to keep at the club."
McGlinchey, once of Celtic's best young prospects, moved to Scotland at a young age and represented them at under-20 level before switching allegiance to New Zealand.
He made his All Whites debut in 2009 and was part of the following year's World Cup squad, though he failed to make it on the pitch. He has made 21 appearances for New Zealand, scoring three goals, and is now first choice is Ricki Herbert's midfield.
- APNZ