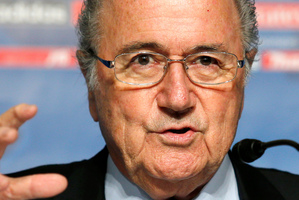 I feel very sad about the match fixing revelations which have come out of Europe this week, but also relieved in a way.
Considering the world today, there can be no great surprise and bringing it out in the open means people will be more aware of the dangers, and able to spot problems.
I am sure that British soccer, which has the biggest following in this country, is - thankfully - as clean as can be. There might always be the odd player who will be tempted, but this is very rare, and the systems there mean bookmakers can quickly spot irregular betting patterns. And I don't believe that match-fixing or tampering is an issue at the highest level, where the players earn huge amounts of money and are driven to succeed.
But the game needs to be vigilant and tough, no doubt about it, so I would not want to downplay the situation. Indeed, this week's stories rekindled memories of the infamous World Cup qualifier between the All Whites and Kuwait, played at Mt Smart Stadium in late 1981.
The Indonesian referee, Hardiowasito Sudarso, awarded controversial penalties against us in that game, which we lost 2-1. Given that we were playing a rich Arab country, aspersions were cast and to this day, I have question marks over the way that match was officiated.
There was no way in the world we should have lost it, and people have often asked for my views on what took place that day. And I'll confess it has bugged me, because the big decisions that were questionable were ones that affected the result.
The obvious people for match fixers to target are goalkeepers and referees, and match officials do figure in soccer scandals uncovered over the years.
This is an area that Fifa and other authorities need to target, including making referees more accountable in explaining strange decisions. This will allow us to understand how referees think in certain situations, and perhaps spot strange patterns. While I'm not a supporter of the push to have technology become part of soccer decision making, perhaps it can also help in this area.
The regions most vulnerable to things going off the rails are the former communist bloc countries, Asia and Africa, where it is so much easier to hide things. Some of those areas are very poor, so the temptation can be too great for people who see a way of making a new life. I'm certainly not condoning soccer corruption anywhere but it is particularly vital that the shine is not taken off the top notch competitions - the Champions League, the European championships and the World Cup.
Things have changed so much with gambling and sport since the days when punters were limited to backing horses or the football pools. There are many exotic betting options now and where you have gambling, you inevitably find some corruption.
Fifa and everyone else involved must take this seriously. They can't sit on the fence. The credibility of the game is at stake. Soccer is the number one game in the world, the game many of us love, and we must make sure it is not stuck with the sort of stigma that has become attached to other sports, especially cricket.
We can look at what Hong Kong has done with racing - if there is the slightest suspicion that a jockey or trainer is not above board or their horse runs badly, they are hauled over the coals quick smart. Soccer needs that sort of tough attitude with harsh penalties.