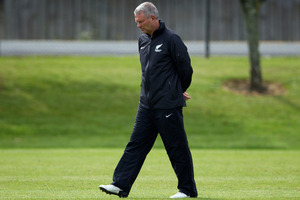 Ricki Herbert refuses to be dragged down by the off-field rumblings that threaten to sink the Wellington Phoenix' bid for a fourth successive trip to the Hyundai A-League play-offs.
In a week in which co-owner Gareth Morgan has grabbed the headlines, Herbert says on-field performance is paramount, insisting he and his players are focused solely on tomorrow's home game with Newcastle Jets.
"The feeling is awesome," said Herbert. "We are concentrated on playing better football. It is all about winning games and, simply, we have not been playing well enough to do that. We are not looking for any excuses. They are all very disappointed and know they have not been good enough."
Herbert is not pointing the finger at defence alone for the poor results.
"We have been poor right around the pitch. It is easy to blame the defence when seven goals are scored against you but the blame goes much deeper than that. We had plenty of chances on attack but they weren't taken just as there was some poor work in midfield.
Any improvement has to come from the team as a whole." The results back that.
In four matches since the Phoenix beat Melbourne Heart 3-2 at home, they have lost four straight - equalling their October 2007 record - scoring just two goals while conceding 13.
Determined to tackle the issue head-on, Herbert has made changes.
Paul Ifill will start up front flanked by Jeremy Brockie and Tyler Boyd. Manny Muscat returns from his three-match suspension to replace the suspended Vince Lia alongside Dani Sanchez and Louis Fenton in midfield while the defence remains as usual with Mark Paston in goal behind Leo Bertos, Ben Sigmund, Andrew Durante and Tony Lochhead.
Herbert also hinted that new signing Isaka Cernak could play a part.
Signed from Melbourne Victory, for which he played 21 times in the past season and a half, the 23-year-old attacking midfielder could provide the much-needed spark.
Cernak did not arrive in Wellington until yesterday afternoon and Herbert will wait until after the team has trained this morning before making a call on his involvement.
"As a minimum he will be on the bench," said Herbert. "We have to consider all options."
Cernak will come in for Alex Smith who has disappointed in recent games. Stein Huysegems too will be missing from the starting XI and maybe the squad altogether if Herbert decides to bring another new signing, left back Ian Hogg, into the match day squad.
"Ian has trained very well this week," said Herbert. "He deserves a chance and may well get it."
In their last meeting, the Phoenix beat the Jets 3-0 away to snap a three-match losing streak.
With the two teams immediately above them on the ladder, Brisbane Roar and Perth Glory to meet in tonight's late game, the Phoenix have the chance to climb off the bottom of the ladder but if they turn in another shocker they can forget that and almost certainly any chance of making the play-offs as well.

A-League
Wellington Phoenix v Newcastle Jets
Westpac Stadium
Tomorrow 4.30pm (live SS3)
Referee: Ben Williams