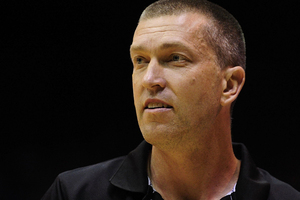 To the untrained eye, the Breakers' eight-game winning streak is made all the more impressive by their severe schedule.
When the defending champions attempt to achieve a club record nine consecutive victories in Wollongong on Saturday night, it will be their eighth game in 30 days.
Six of those have been across the Tasman, with a four-game roadtrip over the festive season followed by home-away double-headers the last two weekends.
All those air miles - and all the miles put on the players' legs - should have had a detrimental effect, but coach Andrej Lemanis believes the opposite to be true.
And, as a result, the Breakers' 48-hour turnaround between last night's 19-point win over Sydney and tomorrow's clash with Wollongong should prove no problem - and could result in history.
"I said at the start of the year, when we were playing one game a week and we'd have 15 days between games, that we couldn't get in a rhythm," Lemanis said. "I felt really like we were struggling to find a game rhythm, and I was actually really looking forward to this period.
"Yes, it was going to be a challenge, but I thought we would play ourselves into a rhythm of playing games - and we have."
Lemanis explained that one of the benefits of establishing that rhythm was creating confidence, but another advantage was manufacturing a familiarity on every floor the Breakers played.
"I think there's a certain ease and comfort that comes with [a winning streak] - you know what's going to happen in games and it's not new to you every week."
There can be no doubting the Breakers are in their comfort zone after a quick glance at the Australian NBL standings. With a 16-3 record, they may have been unable to shake off the pesky Perth Wildcats (12-4) but they have established daylight between themselves and every other team in the league.
During the streak, the Breakers have been banged up, they have played without key personnel and they have found themselves facing significant deficits. But the outcome has always been the same.
Lemanis thought that consistency was down to an unerring ability among his players to disregard any weariness in their bodies and focus on only the next play.
"There's no doubt fatigue is part of the challenge we're dealing with right now, but so what? What are we going to do, not play?
"You've got to find ways to overcome it. Our medical staff do a great job on recovery, but often it's just as much mental as it is physical. There's obviously a physical component, but you can get into it mentally or you can choose to overcome it."
CJ Bruton, one of the leaders to whom Lemanis referred as the key to keeping the team on task, repaid the compliment and pointed at his coach as the man responsible.
"This guy right here," said Bruton, gesturing at the man beside him when asked why standards haven't slipped. "He stays on top of us. We come up and work hard, but he knows when we're tired and he needs to back off a little bit."
That balance has been working well, with the Breakers' eighth straight triumph doubling as their 100th home win as a franchise, but Bruton said the number three was the only one which mattered to the two-time champions.
"Obviously, the common goal for everyone is to win the title."
The next step towards that goal is tomorrow night and, if they make it nine wins on the trot, the Breakers owe a debt of gratitude towards the schedule makers.
- APNZ