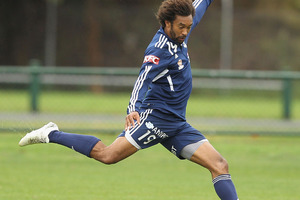 New Wellington Phoenix signing Isaka Cernak will have only one training session with his new team-mates before he could be called on to start for the side against Newcastle on Sunday.
Cernak is due to arrive in the capital this afternoon after he inked a deal for the rest of the season with the last-placed club, having spent the first part of this season with the Melbourne Victory.
Wellington host the Jets at the Cake Tin on Sunday afternoon and Phoenix coach Ricki Herbert said the attacking midfielder might be thrown into the mix from the opening whistle.
"He could start, I haven't ruled that out yet," Herbert said. "We'll just get him here, make sure he's okay and safe and sound and we certainly haven't ruled that out yet."
The Phoenix are on a four-match losing streak but one of the major issues has been an inability to score goals and they have not been helped by a lack of thrust in midfield.
They struggle to attack teams through the centre of the park but it's hoped Cernak might provide some x-factor.
The 23-year-old has had a disjointed A-League career with stops at the Brisbane Roar, the now-defunct North Queensland Fury and the Victory.
In 50 games in the competition, including 24 starts, he has scored four goals and has two assists and Herbert rated him as a useful addition to the roster.
"He's got 10 games to perform. Should there be anything past that, that'll be evaluated on his performance so [it's] probably a good chance for him, too.
"We've brought him in as an attacking midfielder so hopefully he gets himself forward and into the box and he probably has that little [bit of] creativity [to] provide opportunities for other players as well."
Phoenix skipper Andrew Durante said he was pleased to see the club had made a play during the transfer window.
"He's good, he's exciting. I found out about that last night and he'll add another dimension to midfield. He's more of an attacking midfielder," Durante said of Cernak.
"I think he can play wide but I think he'll probably be better suited to us playing in the midfield. I'm looking forward to seeing him tomorrow. I think buying someone in this January transfer window - I'm not saying he's the answer to turning the season around - but a fresh face around camp is always nice and hopefully he can play a part on the weekend and help us get out of this as well."
Louis Fenton and Paul Ifill are also in contention to be included in the starting side as Herbert looks to shake things up following last weekend's woeful 7-1 loss to Sydney FC. If Cernak doesn't start, he will get decent game time from the bench.
- APNZ