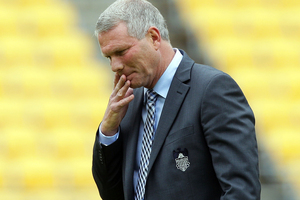 Wellington Phoenix coach Ricki Herbert remains defiant about his position, despite his side's record 7-1 loss to Sydney FC.
The Alessandro Del Piero-inspired masterclass on Saturday night leaves the Phoenix in last place on the A-League ladder after 17 rounds.
"I'm as hungry as ever," Herbert told reporters after the game.
"There's still a lot to build about this club. It's tough, very, very tough at the moment, but I'm just as keen to get us out of this."
As for whether he thought he still had the backing of the owners, Herbert said: "Probably ask them."
Co-owner Gareth Morgan, who also holds a stake in the Hurricanes rugby franchise, did not return calls today.
Herbert has a huge task ahead of him as he tries to plug the side's leaky defence ahead of this weekend's home game against the Newcastle Jets.
"That's the most disappointing performance from a team that I've had at the football club," Herbert said of the Sydney defeat.
"It was totally unacceptable at both ends of the pitch.
"It's not like we didn't have goal-scoring opportunities, we just weren't good enough to take them and at the back we were exposed by better players.
"It's a tough ask but we're back home next week so hopefully we can turn things around."
The Phoenix have battled to put together a complete performance in recent weeks as they have tried to play a more attractive brand of football with a focus on possession rather than knocking the ball long.
The change came after Morgan said the club needed to move to a more viewer-friendly style during an interview with Radio Sport on December 13.
"We are trying to go towards what they call 'total football'," Morgan said at the time.
That comment was met with criticism by pundits and the Phoenix have lost five of their seven games since the interview, with only one win.
Herbert's chances of turning the side around have been made tougher with five of his players one caution away from a single-match ban.
Andrew Durante, Ben Sigmund, Louis Fenton, Manny Muscat and Jeremy Brockie have all picked up four yellow cards and another before round 21 would lead to an automatic suspension.
The pressure may be particularly acute for defenders Sigmund and Durante who will have to consider the risks posed by mistiming tackles.
The bottom-placed Phoenix will be without rugged midfielder Vince Lia for Sunday's clash with the Jets after he picked up his fifth booking of the season amid the carnage in Sydney.
His place in the midfield for the round 18 clash will likely be taken by Muscat who returns from a three-game spell on the sidelines from a suspension he copped in the 2-1 loss to the Brisbane Roar on New Year's Day.
Muscat's return will add some steel through the middle of the park but he will need support.
It's hard to see many changes that Herbert could make for the next game, but new signing Ian Hogg may be given his opportunity at left back as Tony Lochhead continues to underperform.
- APNZ