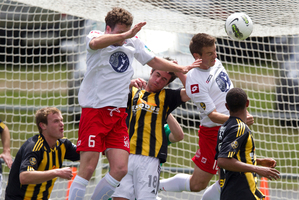 Copycat 3-1 away wins for Waitakere United and Auckland City have taken the perennial front-runners clear at the top of the ASB Premiership soccer comp but elsewhere the real round eight action came in the cellar-dweller clash in Palmerston North.
By the time the game, won 4-1 by Otago United over YoungHeart Manawatu, was mercifully ended by referee Nick Waldron, there were only 17 players left on the field.
Otago had Tom Connor and Matt Joy sent off at Memorial Park. Joy was sent for a second yellow while Connor was shown straight red in conceding a penalty in hacking down Seule Soromon who got up to score from the spot.
Otago also had Craig Ferguson booked while the home team were without Alex Rufer, golden boot leader Tom Mosquera and Dale Higham (following a second yellow) by the time the battle ended.
Otago's Aaron Burgess grabbed two, including a penalty after just 11 minutes when Seamus Ryder was chopped down.
By the time the dust had settled - and with some harsh words from the respective camps - Waldron had dished out 11 cards as the 9 v 8 game ended.
In coming from a goal down to beat Canterbury United on the artificial pitch in Christchurch, Auckland City followed the same route taken a day earlier when Waitakere bounced back to beat Team Wellington by the same score. Both games were locked at 1-1 at halftime.
In taking a maximum six points from their two games inside four days, City leaped into second place - five points behind Waitakere with next month's catch-up - at home to Team Wellington - in hand.
Making the most of their early advantage, Canterbury United went ahead after 12 minutes when Andrew Barton headed home a long range Aaron Clapham cross to stun Auckland City into action.
Alex Feneridis headed home the equaliser 14 minutes later.
Daniel Kopricvic grabbed the go-ahead goal seven minutes into the second half with a close-range effort. Substitute Emiliano Tade scored the third headed goal 11 minutes from time to make it safe for the visitors.
City will be back at home for the first time since mid-December when they entertain a depleted Otago on Sunday.
There was little drama in Napier as Hawkes Bay, led by a brace from former All White Jarrod Smith in his first game of the season, saw off Waikato 4-0 after Smith had scored in the 45th minute to give the home team their halftime 1-0 lead.
Roy Krishna was the two-goal hero for Waitakere on Saturday as they bounced back from 0-1 after five minutes to score three unanswered goals. Brain Shelley squared the ledger after 16 minutes with Krishna's second half double ensuring Waitakere's seventh win of the season.