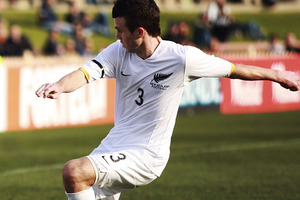 The Wellington Phoenix have made a move in the transfer market but any fans hoping for a big football name may be disappointed.
All Whites left back Ian Hogg has joined up with national coach Ricki Herbert after an unsuccessful stint in America's Major League Soccer.
The Phoenix needed to bring in a new recruit to replace Mirjan Pavlovic and Hogg's signing, on a contract until the end of the season, was widely tipped.
The pressure will now be amped up on incumbent Tony Lochhead, whose performances this season have left him open to be usurped in the first team.
The 23-year-old Hogg has previously impressed on national duty while filling in for Lochhead and the veteran will now feel the pressure to play for his place.
Hogg, who formerly played for Auckland City before linking up with the Portland Timbers, was looking forward to getting out on the training pitch.
"I've been waiting a while to get a break here and now that it's come I can't wait to get started," Hogg said.
"I think it is a good time to come in because Ricki is giving young guys a chance and playing a new style that I believe will suit my game."
Hogg, who also represented New Zealand at the Olympics, acknowledged he faced a tough task over the next few months to earn a contract for next season but he was ready for the challenge.
"It is up to me now that Ricki has given me this opportunity and I will be working hard to show I'm up to it," he said.
Hogg did his chances no harm when scoring on his senior All Whites debut against El Salvador and going on to perform solidly in London where he started all three games.
Herbert was said to be particularly impressed with the way he handled himself against a talented Brazil team.
"It helped that I'd played against Brazil at the 2008 Olympics," Hogg said. "I told myself not to be overawed by them and I went out and played my natural game."
Hogg joined Portland straight after the Olympics but struggled to break into the first team. He initially had visa problems that restricted him from playing before turning out for the reserves on a number of occasions.
Despite not having played since September, Hogg came through Phoenix fitness testing without any issues. He will train with the full squad for the first time on Wednesday and will be eligible to play for the club from January 14.
- APNZ