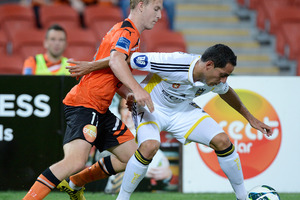 Wellington Phoenix coach Ricki Herbert won't summon any extra bodies for Saturday night's game with the Melbourne Victory following a rugged clash with Brisbane last night.
Leo Bertos and Alex Smith both suffered facial injuries in the 2-1 loss to the Roar at Suncorp Stadium, which extended the Phoenix's winless streak at the venue to eight games.
But a Phoenix spokesman confirmed today that Bertos was fine within minutes of leaving the field, and Smith was examined at hospital after the game and was later cleared of any major ailment.
There will be one enforced change for Saturday night's showdown with the Victory, who are riding high on the back of the form of young All White Marco Rojas, and that will see Cameron Lindsay come into the squad for Tyler Boyd.
Boyd, who celebrated his 18th birthday on December 30, was given a belated birthday card of a different variety when he was shown red for his second bookable offence last night and will be banned for one match.
Lindsay has waited a long time to make his Phoenix debut and, after a couple of false starts, could get a run off the bench against the Victory.
The match review panel may create a headache for Herbert, though, after Manny Muscat raised his elbows twice late in the game during a tussle with Nick Fitzgerald but escaped sanction at the time.
It will be interesting to see who Herbert calls upon to replace Boyd in the starting XI.
Herbert could give Solomon Islands' international Benjamin Totori the opportunity to begin the game after a few useful cameos from the bench in recent weeks, or he could offer a reprieve to Stein Huysegems who has fallen out of favour lately.
Given Boyd has been playing out wide, Totori would be a more like-for-like switch as Huysegems is a genuine centre forward, although Herbert could insert Huysegems and push the red-hot Jeremy Brockie out wide.
Brockie has been in irresistible goal-scoring form of late and, given the quality of his long-range strike against the Roar last night, the All White wouldn't look out of place in a number of positions on the paddock.
In 12 starts this season, Brockie has scored 10 goals. It took Shane Smeltz 20 appearances to register 10 goals for the Phoenix and Paul Ifill needed 26 games to reach double digits.
Brockie isn't a centre forward in a traditional sense but it's hard to deny his production in front of goal, and he is one of the form players of the A-League alongside his All Whites' teammate Rojas.
The little maestro from Waikato has been dubbed `Kiwi Messi' in Australia and, while such praise is probably an over-reaction, his two goals against Newcastle last Friday night were of the highest quality.
Rojas' partnership with Archie Thompson at the front of the Victory attack has been tough to contain this season, and the pacy pair tore the Phoenix to shreds in their last encounter in Melbourne in round five when the Victory won 3-2.
Interestingly, that was the game that sparked Brockie's run of goals as he grabbed a late brace, and the Wellingtonians will hope their in-form striker can produce the same again this weekend.
- APNZ