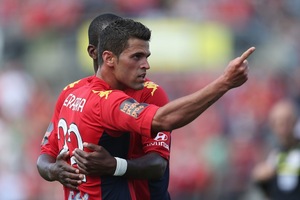 The Wellington Phoenix will be glad to see the back of Hindmarsh Stadium after two controversial outings at the South Australian capital this season.
And that has little to do with the alleged racist comments aimed at striker Paul Ifill which has led to investigations by Football Federation Australia and Adelaide United.
Seven weeks after slumping to a 3-1 loss at the hands of Adelaide in the most talked about game of the season, the Phoenix were back on Sunday and again left on the wrong end of a 3-1 scoreline and with another dollop of controversy to boot.
Adelaide's go-ahead goal was dubious at best. The Phoenix were penalised for a foot up tackle - an offence rewarded with an indirect freekick. Why then, the Phoenix must be asking, was the goal, scored directly, allowed to stand.
Without that goal the teams would have turned with the home side 2-0 ahead.
That should have been reduced by a Phoenix goal early in the second half which was disallowed on a bungled call from the linesman which decreed it was "scored" from an offside position when replays confirmed the decision was wrong.
The introduction of Benjamin Totori and Tyler Boyd brought new pace to the Phoenix eventually leading to a goal for Dani Sanchez and later a penalty which Boyd missed after a dominant second half from the visitors.
Sanchez, in for his first game of the season and starting in the midfield in place of Alex Smith, was a standout among the Phoenix players who turned in a more than useful second half despite losing captain and key defender Andrew Durante to injury.
He will be hoping his calf strain is no more than that and he will be cleared to play despite only a six-day turnaround this week.
Enjoying an equal share of possession and a huge advantage in the shot and corner count, the Phoenix deserved better but were again left to rue the fates which conspired against them.