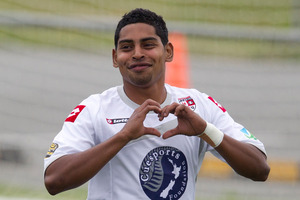 Goals galore, a most unlikely season's biggest score and a come-from-behind win for pacesetters Waitakere United over second-placed Canterbury United made for a stirring ASB Premiership soccer seventh round bonanza.
Yesterday's individual highlight was provided by Rory Turner who netted the season's second hat-trick in leading Waikato FC to their 6-1 rout against Otago United under the roof in Dunedin. In total, 18 goals were scored.
Auckland City, shrugging off the effects of their tiring trip to Japan, produced their most emphatic win of the season, scoring three first half goals en route to a 4-0 win over a plucky but in the end out-gunned YoungHeart Manawatu.
In replying to Dan Terris' go-ahead goal just eight minutes into their game at ASB Football Park, Waitakere, with strikes from captain Jake Butler, after 15 minutes, and in the second half from Roy Krishna and, two minutes from time, Ryan de Vries, Waitakere head to the Christmas break four points clear of Canterbury.
A back-headed Chris Bale goal from an Alex Feneridis corner gave City their 15th minute lead. Four minutes later Emiliano Tade made the most of sloppy marking when he turned and fired the ball under a despairing dive from goalkeeper Matt Borren for 2-0 and a 41st minute Manel Exposito penalty had the home team firmly in control at Kiwitea St.
Manawatu had their half chances but failed to convert and City's impressive 16-year-old David Browne, on debut, and denied a goal with his first touch by the offside flag, made amends just four minutes after entering the game with his 70th minute beauty.
"You are in the lion's den when you come here," said Manawatu coach Stu Jacobs. "But I can't remember coming to Kiwitea St and having five good [scoring] chances like we had today. Last year we got smothered by five here but I felt we were much better today.
"Apart from the game against Waitakere we have been every game this season."
"I'm happy with three points," said City coach Ramon Tribulietx. "I think the boys were tired. It wasn't until late when Seule Soromon came on and caused a few problems with his pace, I had any concerns. In the first half we dominated and probably had 70 per cent of the possession."
After three training sessions this week, the squad will have a 12-day break before travelling to play Waikato FC on January 9.
Waikato's win - close to their 6-0 record (over Team Wellington in 2005-06) - was their second in a row after four straight losses and marked a huge improvement since coach Mark Cossey replaced Declan Edge.
Ahead 2-0 at halftime, Waikato, on the back of Turner's three goals, raced away and finished the round with a deserved win and sixth place on the points table.

Top results
• Auckland City 4 YoungHeart Manawatu 0
• Canterbury United 1 Waitakere United 3
• Otago United 1 Waikato FC 6
• Hawkes Bay United 3 Team Wellington 0