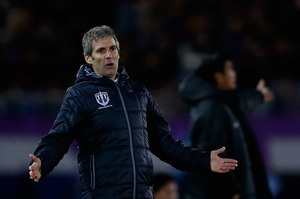 It has taken time but Auckland City coach Ramon Tribulietx is confident his players will be ready for action when they run out at Kiwitea St tomorrow to face YoungHeart Manawatu.
Back from their commendable effort at Fifa's Club World Cup where they battled bravely in going down 1-0 to J-League champions Sanfrecce Hiroshima, Tribulietx admitted some of his players have taken time to recover from the testing exercise.
"Some of the players have struggled and our first couple sessions weren't the best but by Thursday I thought they were reasonable and after another light session on Saturday morning they should be ready," said Tribulietx. "Of course it is hard to get up after an experience like that but we all know the importance of these games.
"I have seen a video of Manawatu's game when they beat Otago 3-0 and they looked alright to me. They will probably be hoping to catch us on the hop and that we might not be as ready as we need to be but I'm confident we will be okay."
Tamati Williams, on the back of another solid effort in Japan, retains the goalkeeping spot with Jacob Spoonley again left out as Liam Anderson takes his place on the bench as one of the two academy players which must be included in all match-day squads.
Of the apparent drop-off in form of top striker Manel Exposito, Tribulietx said it was "just one of those things goalscorers go through from time to time".
He certainly is not pushing the panic button at this stage.
"Manel is working really hard. Goalscorers go through periods when they can't find the net. He is scoring at training and we are confident he can turn it around but when players like him aren't scoring, they can lose confidence."
Tribulietx can, however, take heart from the way Exposito's fellow front man Adam Dickinson is playing.
"Dicko gives us something different with his ability to hold the ball and still score, so they can complement each other."
However there is a slight injury concern over Dickinson as he is troubled by knee problems. There are also some concerns over defender James Pritchett with a hamstring problem.
It will be a tough ask for Stu Jacobs and his Manawatu team.
Since that first-up win over Otago they have lost five straight games, but only against Waitakere United (at home) and away to Canterbury United - the top two teams on the ASB Premiership ladder - have they failed to score.
With seven goals, Manawatu's Tom Mosquera leads the golden boot, but might find the trip to City central a step too far.
Manawatu have won only three of 23 such clashes but this might be their best chance to add to the four draws they have managed.
Leaders Waitakere head to Christchurch in the table-topping affair while Waikato FC are under the roof in Dunedin to play an Otago United side buoyed by their win over Team Wellington.
There is still much ill feeling in the Waikato camp following Declan Edge's departure.
"We will get by, but it is sad that some good young players appear to have been manipulated by our previous coach in an effort to cause maximum disruption," said chairman Brendon Coker. "The reputation gained from being pawns in such action will do these players no favours when they seek to gain spots in future teams, and for some, it will cost them selection in national age-group squads."
In the other seventh round game, Hawkes Bay United entertain Team Wellington.

Auckland City v YoungHeart Manawatu
Kiwitea St
Tomorrow 2pm
Referee: Isaac Trevis