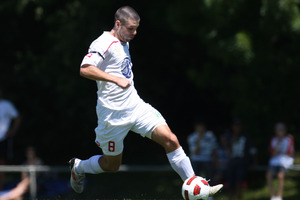 On one thing both coaches agreed: no way was this a 4-1 game but that was the scoreline as Waitakere United cemented top spot after beating Otago United.
Waitakere, stung early by a super defence-into-attack goal by magical 17-year-old Joel Stevens, had to battle their way back into this ASB Premiership match.
They equalised through a David Mulligan 14th minute tap-in six minutes after Stevens had opened the scoring and bagged just the second goal against Waitakere this season.
The home side went ahead 10 minutes into the second half as captain Jake Butler scored his second in as many games at Fred Taylor Park but it was not until the last five minutes they sealed the deal with late goals from Roy Krishna and Ryan de Vries.
"That's the story of our season," said Otago coach Richard Murray after their fifth loss in as many outings.
"We do well at times but then give up a couple of soft goals. We had a game plan which worked well early but we changed that as the game went on.
There is no point in losing 2-1."
It was far from impressive at times with Waitakere's much-lauded line-up struggling to break down the gutsy visitors.
"Probably it wasn't a 4-1 game," conceded Waitakere coach Paul Marshall.
"In the first half in particular, our passing was terrible and it wasn't until we changed our shape we got back into it.
"It was not the prettiest, but we'll take it. We had to scrap, we had to fight," said Marshall.
"Players like Roy Krishna and David Mulligan have to show us more."
A solid defensive effort led by Brian Shelley and Tim Myers was not matched at the other end of the pitch with too much under-hit and misdirected passing.
Elsewhere there were happy days for new Waikato FC coach Mark Cossey and Canterbury's Keith Braithwaite.
Cossey, handed the job few would have pursued, took his players to Westpac Stadium more with hope than anything else and came away 3-2 winners over YoungHeart Manawatu for their first points of the season.
Canterbury, again making most of home advantage and their artificial surface, scored two in each half to beat Hawkes Bay United 4-0 and leapfrog them into second place.