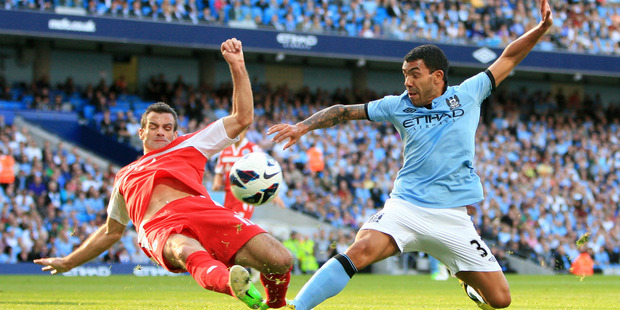 New Zealand's All Whites captain Ryan Nelsen will be reunited with former Spurs manager Harry Redknapp, who has joined Queen's Park Rangers on the understanding he will be allowed to invest in his side this January if he can get the team up the table.
Nelsen transferred to Tottenham Hotspur, where Redknapp was then managing, from Blackburn Rovers last season. He was released after playing only eight matches and joined QPR on a one-year deal.
He will find Redknapp focused on improving the position of the ailing team before the transfer window to demonstrate to the club's owners there is a glimmer of hope that they can avoid relegation.
The 65-year-old Redknapp finalised talks yesterday to succeed Mark Hughes, despite misgivings that the challenge of keeping QPR in the Premier League is even more difficult than when he began his doomed attempt to keep Southampton in the division in the 2004-05 season.
He was at Old Trafford for the game against Manchester United overnight but will not take over running the team until this week.
The priorities for the side are a new centre-back - Nelsen's position - and a centre-forward. Despite QPR's significant outlay on wages for new players this summer, there is a willingness to help Redknapp if he can show some improvement in the team.
Redknapp is expected to bring his assistant Kevin Bond with him, although Joe Jordan, who also worked with the pair at Tottenham, is not a certainty to join. He remains in the frame to get the Scotland manager's job.
Redknapp was approached over the Ukraine manager's job earlier in the week.
He was so keen to get involved in management once again that friends had to talk him out of considering the job, arguing that he would be completely unsuited to the demands of travelling to Ukraine regularly, as well as coaching a non-British national team.
Of the group of players Redknapp inherits, arguably the most influential is the attacker Adel Taarabt, an erratic but occasionally inspirational presence who was in and out of favour with Hughes. Redknapp sold him when he was Tottenham manager but has since indicated that was a decision he regretted and his arrival will by no means herald Taarabt's departure from the club.
Hughes' assistants Mark Bowen and Eddie Niedzwiecki have not yet been told whether they have a future at the club. Given their loyalty to Hughes, with whom they have served for the majority of his managerial career, it is not certain they would stay on even if invited to do so.
After this weekend, QPR have seven games until the transfer window opens in January, of which four are at home against Aston Villa, West Bromwich Albion, Fulham and Liverpool. The team are currently bottom of the Premier League table, five points from safety having taken just four points, all of them draws, from 12 games.
QPR chairman Tony Fernandes, who had been unwavering in his support of Hughes until recently, tweeted that the fans had been a major factor in the decision.
He posted: "This is a club where the chairman and shareholders look at all things in a long-term view. But also take the views of the fans who are the most important constituents of the club. To us, fans come first."

- The Independent