Mourinho and Ronaldo have set records at Real Madrid but fail to gain complete respect.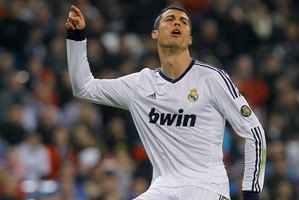 Jose Mourinho will become the youngest coach to clock up 100 Champions League matches on Thursday at Etihad Stadium. The 49-year-old beats previous record-holder Carlo Ancelotti who was 51 and joins other centurions Arsene Wenger, Ottmar Hitzfeld and Sir Alex Ferguson.
The Real Madrid coach might afford himself a wry smile that the fixtures have fallen in such a way that he reaches the milestone in England when he steps out before his side face Manchester City. There will be far greater recognition for his achievement there than back in Spain, where last week both he and Cristiano Ronaldo were ignored in the Spanish League's awards.
Ronaldo came third in the best striker category of last season and Mourinho was beaten by Pep Guardiola for the best coach award, despite Real Madrid and not Barcelona finishing on top of the league with the biggest points tally in the history of the competition.
If the lack of respect from awards voted for by Spain's professionals ahead of the final weekend of last season are difficult to understand, the ongoing frosty relationship between the two men and their own club is stranger still.
If you are a Real Madrid supporter, what's not to like about the manager who has registered 100 wins faster than any other coach in the league's history, and the player who has reached 100 goals faster than any of the club's illustrious strikers?
Yet there were jeers from a minority of home fans for Mourinho during the win over Athletic Bilbao at the Bernabeu on Sunday and the club has still set no date for new contract talks with Ronaldo. Both men talk of staying in Spain but have admitted to missing the Premier League - Spain is the love affair that never got started.
Real were winning 5-1 on Sunday when the most vocal section of the Santiago Bernabeu began singing the coach's name, prompting another section to drown out the homage.
It's a regularly expressed difference of opinion among supporters. "It didn't happen at Chelsea, at Porto or at Inter," said Mourinho when the whistles were first heard.
"If they whistled [Zinedine] Zidane, if they whistled the other Ronaldo, if they whistled Cristiano Ronaldo, why are they not going to whistle me?"
Ronaldo remains more at odds with the club's directors than with its supporters. Fans applauded him during Sunday's game, despite him not scoring, but they support the club and not the player over the delay in offering him a new contract.
He takes home about €10 million ($15.7 million) annually. The now defunct Beckham law that previously meant big foreign signings only had to pay 24.75 per cent tax means any new Ronaldo contract would be subject to 52 per cent tax. And with the club shouldering the fiscal burden, that means even if Ronaldo's take-home pay was frozen at €10 million it would cost Real Madrid €20 million a season.
They could pay more of his wages as image rights and then reduce the amount of those rights they rake back - about 50 per cent - but remain reluctant to do that, leaving his future at the club far from settled.
Mourinho's contract also runs until 2016. Seeing it through at a club that has hired and fired 25 coaches in as many years would be almost as impressive as winning league titles in four different countries.
This week's Champions League opponents were the favourites to take him last season but they kept faith with Roberto Mancini.
The latest stick the Portuguese is being beaten with at Madrid is that he has done nothing to bring the club's youth players into the first team in the 2 years he has been at the Bernabeu.
Based on generous estimated transfer fees, Catalan paper Sport last week claimed Barcelona's youth system had produced about £400 million ($782 million) worth of talent over the last five years.
"I didn't sell Juan Mata, Alvaro Negredo and Roberto Soldado," said Mourinho who knows the boat carrying Madrid's golden generation of talent sailed long before he arrived. What is true is that success at Porto, Chelsea and Internazionale was achieved almost entirely without young players who Mourinho gave a debut to.
Should they win against City on Thursday, Real will almost certainly reach the last 16. Winning the club's 10th European Cup, and Mourinho's third, remains the priority.
"One day it will be my turn to respond and they will be left sad," he said of those first whistles at the singing of his name. Whatever he and Ronaldo go on to achieve at Madrid you get the feeling when the time does come to say goodbye the ties will be cut painlessly.
- Independent