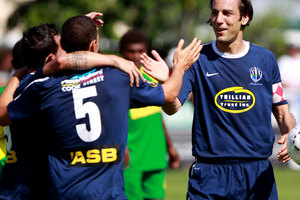 Auckland City 5
Canterbury United 2
On this evidence, Auckland City will again be the benchmark in the ASB Premiership.
Though Waitakere United eventually claimed the title, City were unbeaten in the league last season and started in the same vein yesterday.
The O-League champions were in control for most of the match, though the visitors fought back to to trail 3-2 with just over 20 minutes left, before two late goals sealed the result.
"It was a positive start for us," said City coach Ramon Tribulietx, "both in terms of effort and execution. Canterbury are a good side - they showed that last year - but I thought we were pretty dominant today."
"We haven't had much of a build-up," said Canterbury coach Keith Braithwaite, "and that showed in the first half. We came back well in the second and have to be satisfied with much of today."
Adam Dickinson, who scored just one goal in the previous ASB Premiership season, opened his account in the 20th minute, first to react to a rebound after Canterbury goalkeeper Adam Highfield blocked an Ivan Vicelich volley.
Dickinson had a poacher's brace nine minutes later, after Jason Hicks skipped into the area and hit a low shot towards Highfield's near post. It was scrambled out but Dickinson tucked in the rebound.
There was the usual transfer merry-go-round during the off-season but few bigger moves than Chris Bale's switch across the Super City.
Bale, the 2011-12 ASB Premiership player of the year, was prised away from arch-rivals Waitakere United and marked his home debut with a neat goal in the 39th minute.
Auckland City dominated the first half but the visitors showed plenty of pluck and some nice touches. Aaron Clapham spurned two free kick chances before the red and blacks grabbed a goal just before halftime, with Julian Collett forcing home from a deep corner after the City defence were caught unawares.
The home side lost some momentum early in the second spell, as Canterbury pressed higher to create pressure.
Clapham converted a 69th minute penalty with some audacity, in the manner of Dwight Yorke - a soft chip down the middle of the goal.
City's fourth goal clinched the game though, a sharp move ending with Emiliano Tade setting up Albert Riera, who finished adeptly. Tade added a fifth in the 81st minute.
Auckland City 5 (A. Dickinson 20, 29, C. Bale 39, A. Riera 77, E. Tade 81)
Canterbury United 2 (J. Collett 41, A. Clapham 69). Halftime: 3-1.