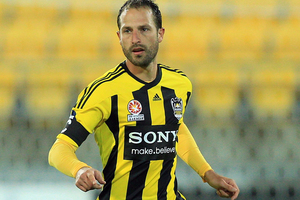 During their five-plus seasons in the A-League the Wellington Phoenix have always been a tough-tackling outfit and coach Ricki Herbert doesn't expect that to stop in light of the Jeronimo Neumann debacle from last weekend.
After Ben Sigmund was judged to have fouled the Adelaide United midfielder on Saturday - where he clearly took a dive - and Sigmund was subsequently given his marching orders, it has been a busy week for the Phoenix.
Skipper Andrew Durante could be fined for delivering an explosive post-match interview in Adelaide where he labelled Neumann a "cheat".
Herbert also made his thoughts clear about the standard of the officiating in a strongly-worded press release during the week, and he too could be slapped with a sanction, but the club have said they won't know until next week.
Sigmund's red card was appealed by the club but wasn't overturned, so the rugged defender is unavailable for Wellington's next A-League outing against the Melbourne Victory across the Tasman on Monday night.
Michael Boxall will slip into Sigmund's shoes for the clash against the Victory, and Herbert said he wouldn't hold his men back for fear of the wrath of referees.
"You've got to tackle," Herbert said. "I think when you go on a football pitch you're always going to be on the boundaries and the edge of getting things right or not quite, and you've just got to keep going and doing what we are doing. I think there's not too many issues there to be fair."
The Phoenix are regular collectors of yellow cards, with Manny Muscat and previously Tim Brown often finding their names taken in the referee's notebook, but Durante said he wasn't going to change a thing this week.
"You go out there and play the way you play," the veteran said.
"I've been playing the same way and Siggy's been playing the same way he's been playing for five or six years now. It's how we play and we'll be judged on each performance. If the refs say it's a foul, if the match review committee says it's a foul, it's a foul. If not, it's not. So we'll just continue to play the way we play and get that out of our heads."
Boxall has turned out to be a useful acquisition for the club. The 1.88 metre defender has played two of the Phoenix's first four games filling in for Sigmund and Durante, who have missed matches with international commitments and sickness respectively.
"He's been very good," Durante said of Boxall. "He's stepped in twice now for myself and Siggy on separate occasions. He's a big, strong, physical centre half and I think he's a fantastic replacement to come in and we don't really have to worry too much about our defensive shape because he knows the role very well. I'm very confident he can do a good job."
Boxall's injection to the side is the only change to the squad for the game, with Vince Lia, Tyler Boyd and Benjamin Totori likely to make up the bench options alongside reserve goalkeeper Glen Moss.
Melbourne are at the bottom of a congested A-League ladder but offer dangerous attacking options in All White Marco Rojas and striker Archie Thompson.
- APNZ