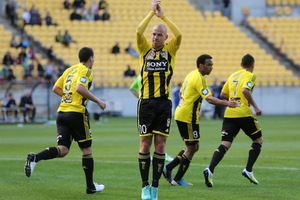 It is their best start in six seasons of A-League football and they are the only unbeaten team after three rounds, but the Wellington Phoenix quickly accept there is a long way to go and plenty of challenges ahead. For now they are simply savouring the early-season spoils.
A win over season favourites Sydney FC and a draw with two-time defending champions Brisbane Roar - along with a good away point at Melbourne Heart with an under-strength team - has been encouraging for coach Ricki Herbert and his players but no one dares suggest that what lies ahead will be easy.
There is little doubt that the demands of whistlestop trips to and from Tahiti and the need to squeeze two World Cup qualifiers into their tight schedule had an effect but in dominating for long periods early in Sunday's match with the Roar, the Phoenix should have had more than just Stein Huysegems' 16th-minute strike to show for their endeavours.
Once they did give up a goal to the league's top scorer Besart Berisha, the Phoenix settled and salvaged a point after what was, by comparison, a dull second half.
"When you put it into the context of what we've had to cope with in the last couple of weeks it is a very good point to get," said Herbert. "We started well and finished with a spring in our step which surprised me a little because fatigue was always going to be a factor.
"Tony [Lochhead] and Leo [Bertos] getting forward is an integral part of our game, but they probably didn't have enough petrol in the tank to do that as much as they wanted.
"This is a transition year for us and we may go up and down a bit but the club is really starting to evolve."
They will be back on the road later this week for Saturday's clash with top-of-the-table Adelaide and with it the chance to cement their bold start.
After poor starts, hotshots Sydney FC and Melbourne Victory finally claimed their first points of the season.
With All Whites striker Marco Rojas grabbing the winner, the Victory beat Adelaide 2-1 in Melbourne while Sydney, with a goal from Alessandro Del Piero who followed up after having a penalty attempt blocked, held out newcomers Western Sydney Wanderers 2-1 in the city's first derby clash in front of nearly 20,000 at Parramatta Stadium.
Emile Heskey scored his second in as many weeks as Newcastle Jets held on to beat Central Coast at Hunter Stadium, while the heat proved too much for Melbourne Heart as they lost 2-0 in Perth.
Perth, one of three teams sharing the early lead with a two win-one loss record, face a difficult trip to Sydney FC on Sunday while Melbourne Victory open the round with their trip to Newcastle on Friday.