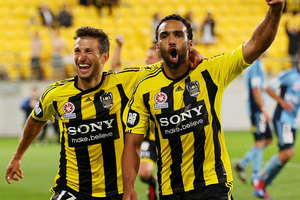 Wellington Phoenix drew 1-1 with the Western Sydney Wanderers in Christchurch today, with Jeremy Brockie scoring his 15th pre-season goal.
The Phoenix were trailing 0-1 at halftime in the game at AMI Stadium thanks to a well-struck 28th minute free-kick by Aaron Mooy but it took Brockie only 90 seconds after the restart to put his team level.
Leo Bertos, who again looked comfortable in his new role at right back, lofted the ball into the Wanderers penalty area and Brockie turned his marker and fired a low shot into the corner of the net.
Brockie said he was enjoying playing as a central striker. "Any striker enjoys it when he is scoring goals," he said.
"I'm happy but all these (goals) won't mean a lot unless I can keep the run going when the season proper starts."
Phoenix head coach Ricki Herbert said he was satisfied with his team's performance, especially in the second half.
"This was our first real test because we probably haven't had the quality of opposition I would have liked.
"We were a bit hesitant in the first half, which was probably natural, but in the second half we moved the ball well. They are a good physical side but we finished strongly and had two or three chances to win the game," he said.
"I got what I wanted from the game. Andrew Durante, Manny Muscat and Ben Sigmund needed to get 90 minutes under their belt and to get four youngsters on was especially encouraging."
One of those youngsters was Ricardo Clarke, a 19-year-old from Panama, who had only arrived in the country 24 hours earlier.
Clarke showed some nice touches and caused one or two problems for the Wanderers defence.
Louis Fenton, who this week signed a three-year contract with the Phoenix was again impressive.
"I thought Louis was superb today and he will grow in confidence from that performance against an A-League team," Herbert said.
Benji Totori also showed glimpses of the speed and skill that encouraged Herbert to sign him and he too could be an X-factor player for the Phoenix this season.
- APNZ