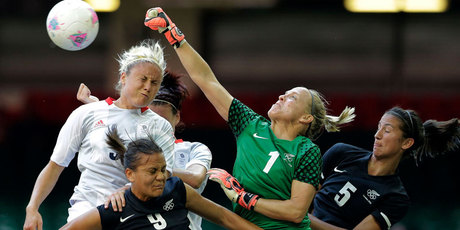 Great Britain 1
New Zealand 0
London's big party is about to kick off and the Great Britain women's football side warmed things up with a 1-0 defeat of New Zealand in Cardiff this morning (NZT).
It was an important game, not least of all because of the fact it will have a bearing on the success of both sides in the competition, but also because it was the first action of the entire Olympics.
It was a bitterly disappointing result for the Football Ferns, who have lofty ambitions at these Games, but served as a sense of relief for the host nation. No one likes their own party ruined.
For 12 minutes, New Zealand looked like world beaters. They passed the ball around fluidly, got in behind Great Britain's defence and totally dominated the match.
In contrast, the home team looked the more nervous - their premier player Kelly Smith complete with 111 international appearances for England kicked the ball out straight from the kickoff - which was entirely understandable given the stage and the importance of the match.
But then the game changed completely.
It happened immediately after the crowd's first chant of "GB''. It was a bit meek and even sounded a lot like ``Kiwi'' but it triggered something because Great Britain took over.
They played with more zip, pushed numbers forward and troubled the New Zealand defence. It was only some good goalkeeping from Jenny Bindon that kept Great Britain scoreless _ one save in particular when she was prone on the ground was exceptional _ and New Zealand looked powerless to do anything about it.
They panicked, often aimlessly thumping the ball forward, and it only invited trouble. Even players like Abby Erceg, who entered the tournament in excellent form, looked lost and she was particularly guilty of putting her team under pressure. She made up for it with a couple of important intercepts but her sloppiness infected her side.
The game was vitally important to Great Britain - women's football gets little recognition a country infatuated by the round ball game - but it was also significant to the Football Ferns who feel they are ready to make a statement on the world stage.
Instead, it would have been coach Tony Readings who delivered a stern half-time message to a side with nearly 900 international caps between them.
They were better in the second half but Great Britain still looked more the dangerous side and it took a couple of scrambling blocks by Ali Riley to keep the game scoreless.
When the goal came, it was worthy of opening the Olympic Games. Left-back Stephanie Houghton curled an excellent long-range free-kick into the bottom corner and a nation smiled.
Their expressions should have soon been replaced by frowns but Sarah Gregorious wasted a golden opportunity when alone in the box and meekly shot at the goalkeeper. It was New Zealand's best chance to get something out of the match and opportunities like that need to be taken at any level of football.
It somewhat symbolised the match for the Ferns. It was a wasted chance. They looked more likely as they pressed forward searching for an equaliser but it didn't come.
They can still make the quarter-finals in a generous competition of only 12 teams but will need to play better. They have a difficult next match on Sunday morning (NZT) against world No 5 Brazil before their final match against Cameroon.
It was the perfect start for the London Olympics. Just not the Football Ferns.
Great Britain (Stephanie Houghton 63) New Zealand 0. HT: 0-0.
- APNZ
By Michael Brown of APNZ in Cardiff