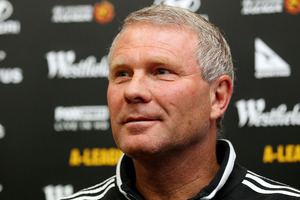 The review into the All Whites' shock failure at the Nations Cup will begin this week, with New Zealand Football CEO Grant McKavanagh promising it will be "wide-ranging and comprehensive".
An independent consultant, who McKavanagh declined to name, will conduct interviews with around 15 of the 30 who went to Honiara, where thefavoured All Whites finished a dismal third.
That will include people from the technical group, logistics and management, medical staff and several players.
"Hindsight can be a wonderful thing," says McKavanagh, "but only if you learn from it. We want to identify the hot spots and have an in-depth look at them."
Potential hot spots might include preparation, logistical issues and team attitude and culture.
In colloquial terms the All Whites didn't seem 'up for it' - certainly there was no sense of death or glory in the 2-0 loss to New Caledonia.
"Maybe we need to have a look at the culture," says McKavanagh candidly. "We need to understand what went on over there. I guess if there was any complacency, it has certainly been shaken out of them now."
Aspects of the preparation have been criticised, including a US whistlestop tour for two friendly matches, which meant the team arrived in the Solomon Islands just days before the tournament and already leg-weary. McKavanagh defends the trip, saying that the opportunity to play North American opposition was a "chance that was too hard not to take".
He says preparation was complicated by the late switch of the Nations Cup from Fiji to the Solomon Islands.
"We had made advance trips to Fiji back in November to look at planning and accommodation but had only seven weeks to prepare for the Solomon Islands."
Despite that short window, NZF thought they had left no stone unturned in off-field preparations. To combat the extreme temperatures, NZF arranged to freight over their giant slushie machine, which produces ice-cold fluids for use during training and games.
The team were also given 'ice vests' - to wear at training and use briefly during breaks in games - but these malfunctioned in the extreme heat, working for around 30 minutes before being pushed above their optimum range.
To combat boredom in a place where it was difficult to venture beyond the hotel, the governing body arranged for a games room to be set up in the hotel. They even tried to ship a table-tennis table - it couldn't fit though the plane's cargo doors - but one was eventually found in the Solomon Islands and offered for use along with PlayStation consoles and other entertainment.
Critics might say the biggest faux pas was made well before kickoff, when NZF spurned the opportunity to bid to host the tournament, which would surely have given the All Whites a huge advantage.
McKavanagh defends the decision, pointing to several mitigating factors. He says they were only given "around a week" to submit a proposal and finding two suitable grounds at such short notice would not have been easy.
They were also unable to offer a guarantee that visas would be granted for all competing nations, particularly the Fijian team given the strained relations between that country and New Zealand.
He also says there was a financial risk of "hundreds of thousands" which NZF could not afford to take (though given the riches available to competing teams in the Confederations Cup, maybe that was a gamble worth taking).
It must also be remembered that the island nations often vote en masse and even if NZF had put in a bid, there is no guarantee it would have been accepted.
McKavanagh is also anticipating frank discussions with coach Ricki Herbert after he returns from a holiday.
"We have already had a few chats," says McKavanagh.
"Everybody is clear that no one is happy and there will be some tough questions and not so easy answers. Ricki's hurting - but like the rest of the organisation he has a strong desire to get to Brazil."
CALL-OFF MAY HELP WHITES
Winston Reid's withdrawal from the London Olympics could prove a blessing in disguise and may have important implications for the All Whites.
The West Ham defender, who chose to focus on cementing a spot with the newly promoted English Premier League club, would have been an asset for Neil Emblen's squad but his absence will cause a tactical reshuffle.
With Reid alongside Ryan Nelsen and Tommy Smith, Emblen would have been tempted to play the 3-4-3 formation that the All Whites have adopted since late 2009, especially with Ricki Herbert as his technical adviser.
Now it is likely Emblen will opt for a more traditional 4-4-2 system, with Smith and Nelsen anchoring the defence alongside two fullbacks.
This line-up also seems to suit the current personnel, both in the Games team and the senior squad.
It means Marco Rojas and Kosta Barbarouses can occupy the wide midfield roles, leaving Shane Smeltz and Chris Wood as twin strikers.
With a 3-4-3 formation, either Rojas or Barbarouses would be on the bench, as neither is suited to the defensive demands of a wingback role under that system. Michael McGlinchey, the Central Coast midfielder drafted in after Reid's withdrawal, also gives the team a better balance.
Previously the squad was looking thin in creative midfield players.
Looking ahead to the All Whites' World Cup qualifiers, Herbert may be inclined to stick with his central defensive trio, although the vulnerabilities of that system were exposed in Honiara (with admittedly different personnel).
London will be a chance for someone to prove himself at right fullback against world-class opposition and give the All Whites coach some genuine options.
It has been a position that has been problematic for the All Whites in recent years, a situation that prompted Herbert's reshuffle in the first instance.
If 4-4-2 is successful at the Olympics, it may become a template for future New Zealand sides and certainly seems to suit many of the current players.