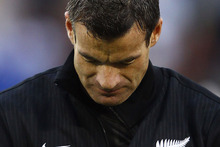 At 34, Ryan Nelsen will be twice as old as one of his New Zealand teammates for next month's Olympic Games.
There's no question the rest of the Oly Whites squad will respect their elder (statesman). No one in New Zealand football commands the sort of deference the central defender with close to 200 Premier League appearances does and the impact he can have on teammates was no better illustrated than at the 2010 World Cup when the All Whites left South Africa unbeaten.
To achieve something similar in the under-23 tournament - teams are allowed three overage players and Nelsen will be joined by Shane Smeltz and Michael McGlinchey - is a tall order but not impossible.
Coach Neil Emblen yesterday named an exciting and also experienced squad, considering 13 of the 18 have played for the All Whites. In the likes of Smeltz, Chris Wood, Tommy Smith, McGlinchey, Kosta Barbarouses and Marco Rojas they have established All Whites and in teenagers Cameron Howieson, 17, and Tim Payne, 18, the next generation of players.
"It seems a nice balanced squad," Nelsen offered from the US where he is on holiday. "There are some really exciting players. In saying that, it's what happens when we turn up and play three games. As long as everyone is prepared and focused, is motivated and knows their roles, then that's what is the major factor.
On paper, which means nothing, it's a good side."
It's difficult to gauge the Oly White's chances, especially given how little is known about some of their opposition. They take on Belarus and Egypt before rounding off pool play against one of the powerhouses of world football, Brazil, at Newcastle United's St James' Park.
Emblen is optimistic of emerging from their group, which would probably mean picking up at least four points for a win and a draw, but Nelsen is more cautious.
"It's really hard to get a handle on how good these teams are at this level because they don't generally reflect what they are like at senior level," he said. "What we can expect is we will be the underdogs in every single game. It will be very tough, we will be up against it, we will be favourites to lose all three games but us Kiwis tend to like those scenarios. We thrive on them.
"I think it will be a really good challenge for all the players, no matter how old or experienced, to challenge themselves on a huge world stage and against all the odds. We will see what happens."
Nelsen played at the last Olympics in Beijing when they opened with a 1-1 draw with hosts China before defeats to Brazil (5-0) and Belgium (1-0). It was an experience that left him wanting more and he was a natural choice to lead the team again in London, his home town since his move from Blackburn to Queens Park Rangers via Tottenham Hotspur.
He has overcome the ankle injury that kept him out of the All Whites' recent failed Oceania Nations Cup campaign and is available for the Oly Whites' warmup matches against the Japan, South Korea and United Arab Emirates Olympic sides en route to London when the work he does off the field will be just as important as what he does on it.
"[The Olympics] is a pretty big tournament and, when you have a huge spectrum of experience from 17 to double the age for me, everyone has experienced different things in their career," he said. "It's just finding what works for people, what makes them tick, what motivates them. Neil will have done a lot that, he knows a lot of the players, so I will be working alongside him to try to maximise the potential of all of the players."
If anyone can do that, it's Nelsen.
- APNZ
By Michael Brown

Email

Michael