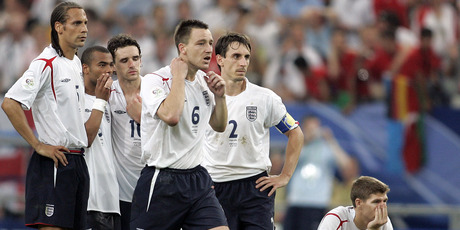 Long past midnight in Donetsk on Wednesday, Roy Hodgson was talking about penalty shootouts. It comes to every England manager who reaches a tournament and you could imagine him mentally compiling the list of men whom he might entrust with the task.
If penalty shootouts are a distillation of a team's character then England have revealed their true colours in such high-pressure moments. At the 2006 World Cup, the last time they lost on penalties, it was Steven Gerrard, Frank Lampard and Jamie Carragher who missed against Portugal - three individuals on whom you would normally bet the house that they would hold their nerve. Those sloppy penalties were symptomatic of a failing regime under Sven Goran Eriksson.
Hodgson said his players had been practising penalties and now that the prospect of a shoot-out is more real, they will step up preparation.
"We'll obviously take it even more seriously now," he said.
"But as you well know, you can practise penalty shootouts until the cows come home. It's really your composure, your confidence, your ability to really block everything out and forget the occasion that means you score or you don't score."
There is no doubt that penalty shoot-outs - specifically the semifinal eliminations by West Germany at the 1990 World Cup in Italy and then by Germany at home in Euro '96 - have burrowed themselves deep into the English psyche.
"Unfortunately we have lost two very, very important semifinals on penalties so I presume that's going to be there during all my time as national coach and probably when a national coach comes 20 years hence he will be asked the same question," Hodgson said.
What will happen if the quarter-final goes to penalties? What character will reveal itself in Hodgson's England, this embattled squad who have emerged as the unlikely winners of Group D?
England have been resilient, which is certainly an improvement on the dismal 2010 World Cup.
With Wayne Rooney back in harness, the most encouraging sign is the mood around the squad. Hodgson has succeeded in taking a group of players who had, to put it mildly, often looked beset by self-interest and moulded them into a collective.
Some relatively simple decisions have helped: the appointment of Gerrard as captain and his deployment in central midfield; the demand to John Terry to behave himself. England are not the best side at Euro 2012, but for once they look like a tournament team. It is a while since they have been able to say that.
- Independent
By Sam Wallace