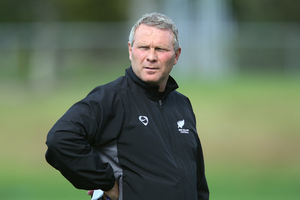 All Whites coach Ricki Herbert. Photo / Brett Phibbs
Let's keep the faith with Ricki Herbert and hope he has learned valuable lessons from the All Whites' poor showing in the Oceania tournament.
People have been quick to criticise Herbert and even call for his sacking.
But one bad tournament doesn't make him a bad coach, and there were circumstances to take into account in the Solomon Islands.
The shock loss to New Caledonia and the emergence of the Solomon Islands and Tahiti as sides deserving increased respect are factors that re-emphasise my point in an earlier New Zealand Herald column - that Herbert has his hands overly full coaching the All Whites and Wellington Phoenix.
But to change the coach at this stage of the campaign to qualify for the World Cup in Brazil would invite a mess and also ignore his significant achievements internationally.
The All Whites were let down by senior players in the Oceania tournament - that team would have beaten New Caledonia 99 times out of 100.
But I take my hat off to Herbert because just as he took the kudos after South Africa, he has now shouldered the blame. He will also have had a rude reminder that you can't take any games lightly.
Herbert will be hurting worse than any of the players, and this is a wake-up call for everyone involved.
There were mitigating circumstances. The All Whites arrived in the Solomon Islands only two days after playing in the heat of Texas where games against El Salvador and Honduras took more out of the players than we probably realised.
They were missing Ryan Nelsen and Winston Reid, and goalkeepers Mark Paston and Glen Moss were not fully fit.
There are downsides, of course. The island teams will have had their confidence boosted before the four-team qualification matches - they won't fear New Zealand any more. And we will miss out on quality games at the Confederations Cup in the lead-up to Brazil.
I have been one of Herbert's fiercest critics and against him holding the two top coaching jobs, but I have to say he has done a pretty good job.
A lot of my criticism has been based on a desire for him to be accountable.
New Zealand Football must also put its hand up because it wanted him to blood new young players, as he has done. But coaches and teams can drift towards the rocks and in terms of being a wake-up call, this disappointing tournament result could be a blessing in disguise.
•I've been frustrated and saddened over the years that the 1982 World Cup All Whites, of which I was a part, have not received the sort of recognition the team deserved for an amazing qualification campaign followed by creditable performances in the finals. I was reminded of this when the latest Queen's Birthday honours list revealed scant recognition of football once again.
Not only did we create history by qualifying for the finals in Spain, we also took the country on a magic ride over an extremely difficult and long series of qualification games, a much tougher road than the 2010 team had to negotiate.
We also left a strong legacy that is felt today, starting with the All Whites boss Ricki Herbert, who was shaped by coming under the influence of John Adshead and Kevin Fallon and the experiences with that team.
Others have continued to make big contributions to the game.
Brian Turner is Herbert's right hand man, and Wynton Rufer - our finest player - produces terrific professional prospects at his academy.
And yet national honours have been scarce.
I have given my playing shirts to my son, but our grandchildren are left with nothing that recognises what we achieved. I know the 1982 team are remembered fondly and with pride by dedicated football fans, but I've always found the lack of official recognition very strange.
Adshead, the coach who masterminded it all (with Fallon) and the enthusiastic front man for football over so many years, has never received a gong.