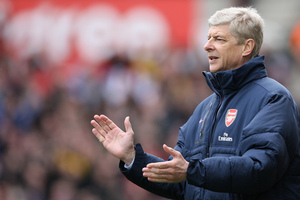 If you are not already aware, Arsene Wenger is officially the world's best coach of the past decade.
Forget the claims of Sir Alex Ferguson, Jose Mourinho, Carlo Ancelotti or Pep Guardiola. That is the conclusion reached by the grandly named International Federation of Football History and Statistics.
The organisation, which on first glance seems about as world famous as L&P, was founded in 1984 by a German professor, doctor Alfredo Poge. Crucially, it received FIFA's blessing from its inception and indeed began the process of world rankings, before football's governing body started their own in 1992.
The IFFHS has the stated aims of "establishing a scientific chronological documentation of world football and determining authentic world records in all areas of football". Their vision goes on to say that "based on its universal qualification the IFFHS also organises global votings and determines world rankings annually."
The German-based organisation will hold their annual world football gala in Barcelona on Tuesday (NZT), presided over by current president, UAE's Sheikh Mohammed Bin Saqer AlQassemi who took over from Poge in 2010.
But back to Wenger for a moment.
If the award emphasised developing teams on a budget, bringing young talent through and playing attractive football until about March of each season then Wenger would be a lay down misere.
But unfortunately the Gunners haven't won a single trophy since 2005 while Ferguson has won five league titles (and the Champions League) over the relevant decade.
Mourinho has been arguably even more successful, winning titles in Portugal, England and Italy (twice) before his most recent success with Real Madrid. Ancelotti also deserves mention, having won the Serie A and two Champions Leagues in the relevant period.
According to the IFFHS, Wenger has never won their annual award but his consistent high placing was enough to earn the decade honour. One Richard Lloyd Herbert was placed 156th on the list.
Other decisions make more sense. Barcelona have been determined as the world club of the decade, Gianluigi Buffon will pick up the goalkeeper award, Ukraine's Shaktar Donetsk is the "best progressive team" and Ruud van Nistelrooy is top goalgetter of the period.
New Zealand will be represented in Barcelona, with Auckland claiming the deserved honour of Oceania's club of the decade.
Not just for their numerous NZFC and O-League titles but also for their unforgettable run to fifth place at the 2009 FIFA Club World Cup.
Their annual awards have also produced some other head scratchers.
While it is hard to disagree that Barcelona's Xavi is the world's best playmaker (with Lionel Messi as second best) and Iker Casillas the top keeper, it is debatable whether Roma veteran Francesco Totti was Europe's most popular footballer in 2011. Even more bizarre, the IFFHA have decreed that Harry Kewell's highly paid and mostly ineffective cameos for Melbourne Victory made him Oceania's most popular player over the last year.