70,000 smokers would have to pay $89 to enrol before prizes become available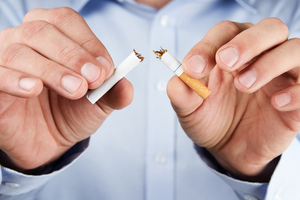 An offer of a farm as a prize for smokers wanting to quit has sparked a complaint to Internal Affairs.
Self-professed quit-smoking guru Michael Andrews is offering more than $600,000 worth of prizes to those who sign up to his "100 per cent guaranteed" programme.
They include two three-bedroom homes in Rangitikei - one with 1.2ha of land (or cash equivalent) - new cars, TVs, laptops and grocery vouchers. Andrews said the prizes would be funded from those who paid the $89 fee for his Te Whare Ora TWOQuit programme.
Dr Marewa Glover, director of the Centre for Tobacco Control Research, said Andrews might be genuine in his desire to help but she was concerned the contest wasn't legal.
"Before the prizes can be awarded, by draw, 70,000 must purchase his stop-smoking programme within a 12-month programme."
Glover said the $89 fee was too much when subsidised programmes were available for free.
Andrews said his offer was not a scam or a get-rich-quick scheme. He said hundreds had paid for his programme and none had asked for a refund. He confirmed that subscribers would pay for the prizes but had no doubt he would get the numbers to make it work.
"Seven hundred thousand people smoke in NZ and I am going for 10 per cent of that market."
Andrews said everyone would be a winner because those who missed out on a prize would still save money through kicking the costly habit.
Glover said there was no way that Andrews could deliver on his offered contest and this week lodged a complaint with the Department of Internal Affairs. A spokesman said no one was available to comment.