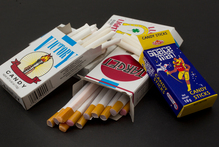 Auckland sweet shop chain The Candyman has removed all American look-a-like lolly cigarettes after a public backlash against the products.
Director Babi Burdett decided to take the American products off the shelves because "it wasn't in the Candyman culture to offend people".
The Herald reported yesterday that the store was stocking candy sticks that looked similar to hand-rolled cigarettes and bubblegum sticks with wrapping that made them look like a cigarette with a filter.
Ms Burdett took five different types of the look-alike lolly cigarettes from the shelves because they were packaged in "cigarette-type packaging".
"The most offensive products seem to be the American ones ... We have removed the lot of them."
Ms Burdett said despite removing the American products The Candyman chain, which has stores in Mt Eden and Devonport, would continue to sell the New Zealand version of the lollies - Spaceman candy sticks.
"They are readily available everywhere, in The Warehouse, dairies, superettes. I don't see any reason to remove those."
She said the chain wanted to publicly apologise to anyone who had been offended by the sale of the products, which cost about $1.70 to $1.80.
The sale of the lollies has been condemned by staunch anti-smoking supporters.
Associate Health Minister Tariana Turia said she was appalled the cigarette-shaped lollies continued to be sold.
By Teuila Fuatai