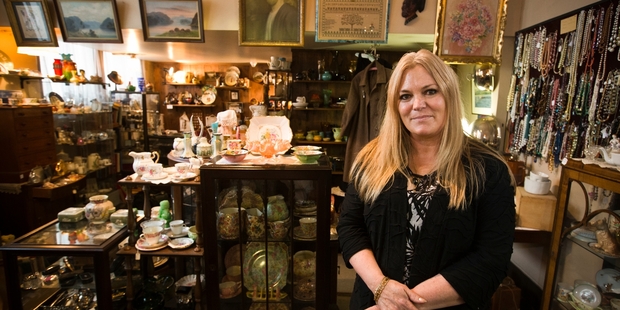 The hassle of parking in the city has played a major part in the closure of a Queen St antiques shop after 36 years.
"People run in here and go 'I've got 15 minutes, otherwise I'll get a ticket', and leave," said Carin Anderson, owner of Upstairs Antiques. "That's really squashed a lot of businesses, I think."
Set up by Ms Anderson's parents, Sylvia and Bob Anderson in 1978, the store has been a fixture at Queens Arcade, with only Marbecks music operating for longer. But the shop has been left behind by the frenetic pace of modern Queen St.
"The whole of Auckland city has changed," Ms Anderson said. "Everyone's in a hurry, always watching the watch."
She said while there was still a market for antiques, business was slow compared with previous years for shops like hers in the central city.
"It was happening in the heyday. Full on, busy. You couldn't even walk downstairs there was that many people."
Ms Anderson has juggled shop hours with her second job as a spiritual medium since her mother retired in her late 70s because of health issues. "She loved it. It was her hobby, as well as a business. It was just the whole excitement of what she might find, going to the auctions, people bringing stuff in."
Beyond the typical china, jewellery and metalware, Ms Anderson's shop has stocked items from as early as the 17th century, and she estimates the total value of its wares to be around $200,000, which will be put into storage when the shop closes in a few weeks.
The family may continue to sell items online, but Ms Anderson said many regulars were upset to see the shop close. "A lot of people come in here because they've got the worries of the world on their shoulders. They feel so much better, their thoughts change and all their worries are gone."