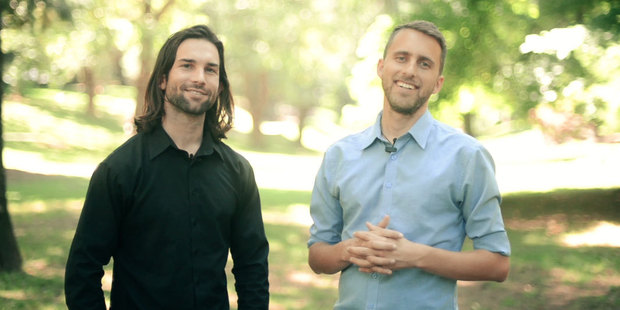 Two Kiwi entrepreneurs have received top billing on US crowdfunding site Kickstarter for their start-up travel gear company, which has already raised more than US$100,000.
New Zealanders Doug Barber and Jimmy Hayes launched their Kickstarter campaign last week, aiming to raise US$30,000 to get their business Minaal off the ground.
Their first product - a carry-on bag which opens flat like a suitcase - has been selected out of nearly 4000 other live campaigns as a 'Kickstarter staff pick'.
"Staff Picks collects projects we like, and think you will too. They're creative, inspiring, and fun," the Kickstarter website reads.
The bag's features include straps which can be zipped away, a compartment for electronic devices, a phone pocket, passport pocket, pen holders, and a key clip.
Less than a week into its month-long campaign, Minaal has already gone above and beyond its funding target.
About 570 people have so far pledged a total of US$112,686.
Nelson-born Hayes the amount of money pledged showed people believed in their product and saw a need for it.
"The money is great and what we were looking for was to get that first run funded. But what's been more fulfilling is that the money is just a confirmations that other people see the same problem in the market as we do."
Speaking from Saigon, Vietnam, Hayes said the pair felt a big responsibility to deliver a great product to their supporters.
The idea for Minaal came after Barber and Hayes spent 52 days travelling around North America together. They decided there was a need for lighter and more practical travel gear.
"We're two regular guys from New Zealand who realised how dissatisfied we were with our travel gear, and thought it'd be a great idea to quit our jobs to make our own," they say on Kickstarter.
Through Minaal, the friends aim to make "durable, professional travel gear that gets you where you want to be - faster, happier and more productive".
Their target market is the "dedicated traveller" who wants to travel light but maintain a professional appearance, rather than looking like a backpacker.
Hayes said he and Barber, who is originally from Whangarei, had spent a long time developing their first product, before moving to San Francisco earlier in the year to prepare for the Kickstarter launch.
They were both now living "out of backpacks" in Vietnam to oversee the manufacturing process.
"We'll be out here (Vietnam) as long as we need to be," Hayes said.
Once the carry-on bag is in the market, Barber and Hayes plan to manufacture other pieces of luggage and clothing items such as an an easy-maintenance business shirt.
Since Kickstarter was founded in 2009, nearly 49,000 projects have been successfully funded, with a combined total of $796 million pledged.
About 44 per cent of projects reach their funding goal and most in the $1000-$10,000 range.