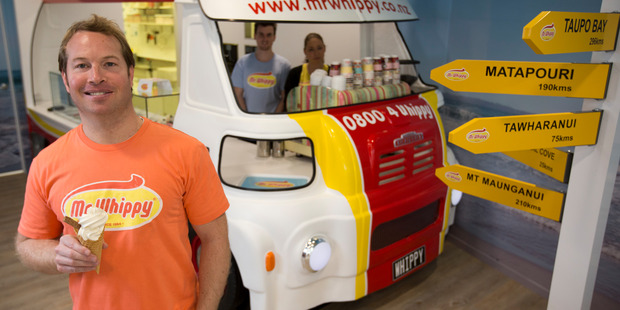 Mr Whippy has opened the first of what may become a network of retail sites around New Zealand, but a legal battle is looming over a shopping mall kiosk the company claims is using its well-known branding without permission.
Chris Dorn, who purchased the ice cream business last year, cut the ribbon on the country's first standalone Mr Whippy store, in Henderson, on Friday.
In addition to the original menu range of soft-serve products, the store is offering coffee, smoothies and frozen yoghurt.
"We've invested quite heavily in the fit-out," Dorn said. "There's even a replica of the 1964 original Austin icecream van within the store and it's been a labour of love to get that moulded and turned into a kiosk."
He said a kiosk operating under Mr Whippy branding in the Westfield St Lukes shopping mall had no links with his business and its rights to use the brand, which began when dairy co-op Fonterra owned Mr Whippy many years ago, expired in 2012.
Two other kiosks trading as Mr Whippy, in Westfield's Pakuranga and Manukau malls, had agreed to rebrand, Dorn said.
But he said the owner of the St Lukes site was refusing to take the branding down and the matter would have to be resolved in court.
Dorn said the mall kiosks, which offer soft-serve as well as scoop icecream made by Fonterra-owned Tip Top, were not using Mr Whippy products and it was confusing for his customers to have retailers with no ties to his business using the same branding.
Alex Fu, who operates the St Lukes kiosk, said he had a written agreement in 2009 that stated he could use the branding until July 2014, when his sub-lease on the kiosk ends.
Rebranding would be expensive and trading under a different name would result in a downturn in customer numbers, he said.
"I think it's really unfair and I'm seeking legal advice."
Fu said the St Lukes kiosk used Mr Whippy soft-serve icecream, which it sourced from an ingredients company that supplies the franchisees that operate Mr Whippy vans. The product is manufactured by Tatua, a Waikato dairy co-operative.
Dorn said he closed the accounts the three kiosks held with the ingredients supplier in November.
Mr Whippy will open a second store in Queenstown in August and up to six retail sites could be operating by 2016.
Five new icecream vans hit the road this year and the business has 38 franchisees operating 60 icecream trucks across the country.
Dorn said the retail stores were company-owned but there was potential to franchise the concept if the Henderson and Queenstown stores proved successful.